Tottenham
VS
Manchester United
Tottenham Hotspur Stadium
London
Tottenham Hotspur - Manchester United betting tip & odds comparison 30.10.2021
In gameweek 10 of Premier League, Tottenham will host Manchester United at Tottenham Hotspur Stadium. Kick-off is scheduled for 6:30 PM on Oct 30, 2021 With our match prediction and odds comparison for Tottenham vs. Manchester United you are guaranteed to get all the important facts and details for this fixture. First and foremost, we will take a close look at the teams' recent performances.
You can't get enough of Premier League betting tips? We provide you with betting tips for every matchday fixture, and additionally, we offer a comprehensive odds comparison.
Tottenham have won 2 of their last 5 league matches (2 wins, 0 draws, 3 defeats. In the previous 4 home games in the Premier League season 2021/2022, Tottenham have won 3 matches, 0 games ended in a draw, and 1 game in defeat. (Goal difference 4:4).
Out of their last 5 Premier League fixtures, Manchester United have won 1 game (1 win, 1 draw, 3 defeats). The away record in the current Premier League season reads as follows: 2 wins, 1 draw und 1 defeat - Goal difference 6:6.
In their last five Premier League encounters, Tottenham managed to get 1 win against Manchester United, while Man Utd scored 3 wins. On 1 occasion, there was no winner. If we focus exclusively on the home games that Tottenham played against Manchester United in the Premier League, we get the following record: 1 win for Tottenham, 1 draw and 3 wins for Manchester United.
Have you heard of the Melbet bonus yet? This offer, which is available to all customers who register for the first time, will allow you to start off with some extra credit.
Tottenham vs Man United, Premier League, 30.10.2021
Tottenham Hotspur and Manchester United will square off on Saturday as both sides look to bounce back from defeats they suffered last time out.
Spurs were beaten by their City rivals, West Ham at the London Stadium while United were torn into shreds at Old Trafford by Liverpool in front of over seventy thousand of their fans.
Read on for our betting tips for this fixture on one of the best betting sites in Nigeria.
TOTTENHAM HOTSPURS
Tottenham have had some sort of mixed October, winning their first two games against Aston Villa and Newcastle before coming short against Vitesse and West Ham in the following games.
A wounded Manchester United side would present them a chance to try and end the month on a high as Nuno Espirito continues to settle on the job.
The Lilywhites have not had it good when playing at home against United in the last couple of years with their last home victory against the Red Devils coming in 2018. It remains to be seen how Nuno would approach this game knowing that it could be three on the bounce if his side suffer another defeat.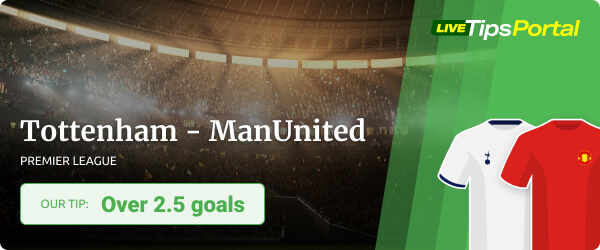 © Livetipsportal
MANCHESTER UNITED
Ole Gunnar Solskjaer has been backed by some members of the United board and given another chance to try and show that he is the right man for the job but a large number of the club's fan base has given up on the Norwegian and want him out.
The 48-year-old cannot afford another poor result against a direct rival so he has to set up his side to go all out for this one or he could be out of a job. But that could also leave their leaky defence even more vulnerable, something Tottenham can exploit as they did in the first leg last season.
United are one point and a position beneath Tottenham so a win will see them leapfrog their host and perhaps close the gap on the teams higher up the table.
Possible Line Ups
TOTTENHAM HOTSPURS
MANCHESTER UNITED

Lloris
Emerson Royale
Sanchez
Romero
Reguilon
Hojbjerg
Skipp
Ndombele
Son
Lucas
Kane
Coach: Nuno Espirito Santo

de Gea
Wan-Bissaka
Shaw
Maguire
Lindelof
Fred
McTominay
Fernandez
Cavani
Greenwood
Ronaldo
Coach: Ole Gunnar Solkskjaer

Injured: Sessegnon( Muscle) and Martial( Knock),Pogba( Suspension), Varane( Groin)
TOTTENHAM VS MAN UNITED BETTING TIPS AND PREDICTIONS
Both teams will be desperate for a win in this game after losing all three points in their respective games last weekend. Therefore, we expect an end to end game.
Solskjaer and his charges will be eager to get some goals in this game, after being completely shut out by Liverpool at Old Trafford. To this end, we expect United to go on a full-scale attack from the first blast of the whistle.
Tottenham also have attacking threats of their own and will be licking their lips against a United defence that shipped in five goals against Liverpool. Hence, we are backing Over 2.5 goals at 1.79 on Betmojo Nigeria.
We also expect that both teams will score and it is available on Betmojo bonus at 1.67. Usually, this game has a record of goals being scored in large numbers.
Our tips
Performance
Tottenham
Last games
Tottenham performance of the last 4 home matches
Manchester United
Last games
Manchester United performance of the last 6 away matches
Current Standing
| POS | TEAM | PTS | MP | W | D | L | GF | GA | GD |
| --- | --- | --- | --- | --- | --- | --- | --- | --- | --- |
| 1 | | 93 | 38 | 29 | 6 | 3 | 99 | 26 | 73 |
| 2 | | 92 | 38 | 28 | 8 | 2 | 94 | 26 | 68 |
| 3 | | 74 | 38 | 21 | 11 | 6 | 76 | 33 | 43 |
| 4 | | 71 | 38 | 22 | 5 | 11 | 69 | 40 | 29 |
| 5 | | 69 | 38 | 22 | 3 | 13 | 61 | 48 | 13 |
| 6 | | 58 | 38 | 16 | 10 | 12 | 57 | 57 | 0 |
| 7 | | 56 | 38 | 16 | 8 | 14 | 60 | 51 | 9 |
| 8 | | 52 | 38 | 14 | 10 | 14 | 62 | 59 | 3 |
| 9 | Brighton & Hove Albion FC | 51 | 38 | 12 | 15 | 11 | 42 | 44 | -2 |
| 10 | Wolverhampton Wanderers FC | 51 | 38 | 15 | 6 | 17 | 38 | 43 | -5 |
| 11 | | 49 | 38 | 13 | 10 | 15 | 44 | 62 | -18 |
| 12 | | 48 | 38 | 11 | 15 | 12 | 50 | 46 | 4 |
| 13 | | 46 | 38 | 13 | 7 | 18 | 48 | 56 | -8 |
| 14 | | 45 | 38 | 13 | 6 | 19 | 52 | 54 | -2 |
| 15 | | 40 | 38 | 9 | 13 | 16 | 43 | 67 | -24 |
| 16 | | 39 | 38 | 11 | 6 | 21 | 43 | 66 | -23 |
| 17 | | 38 | 38 | 9 | 11 | 18 | 42 | 79 | -37 |
| 18 | | 35 | 38 | 7 | 14 | 17 | 34 | 53 | -19 |
| 19 | | 23 | 38 | 6 | 5 | 27 | 34 | 77 | -43 |
| 20 | | 22 | 38 | 5 | 7 | 26 | 23 | 84 | -61 |
Legend
Champions League

Europa League

Europa Conference League Quali.

Relegation