Valencia FC
VS
Getafe CF
Estadio de Mestalla
Valencia
Valencia CF - Getafe FC betting tip & odds comparison 13.08.2021
Gameweek 1 in the Primera División will see the clash between Valencia FC and Getafe CF at Estadio de Mestalla. Kick-off time is at 9:00 PM on Aug 13, 2021. In our preview of Valencia FC vs. Getafe CF we will provide you with all the important facts and stats for this Primera División fixture. Let's start by having a look at the current form of the two teams involved.
Here, you have all free La Liga predictions at a glance. We provide you with detailed forecasts for every matchday. In addition to that, you can also find a comprehensive odds comparison.
Out of the last five Primera División encounters between the two teams, Valencia FC won 0. In 3 matches the points between the two sides were shared, and 2 times Getafe CF got the win. If we look at the home record of Valencia FC against Getafe CF, the stats are as follows: 1 win Valencia FC, 3 draws and 1 win Getafe CF.
Naturally, you can follow our advice and place the same bet free of charge. If you decide to do so at a new bookie, you can benefit from the Betway deposit bonus. We have already tested the offer for you in detail.
Valencia vs Getafe, La Liga, 13.08.2021
Valencia will be looking to bounce back from a lackluster performance last season when they play host to Getafe on the opening day of this 2021/22 La Liga season this Friday.
Both teams have looked sharp in pre-season games but it remains to be seen what will happen when the rubber meets the road.
For this preview, we will turn the spotlight on Odibets Free Bet prices for our betting tips.
VALENCIA
Finishing 13th in the 2020/21 La Liga season was their worst league campaign in close to 3 decades. That woeful performance claimed the scalp of head coach Jarvi Garcia who was ironically replaced by Getafe coach José Bordalás who will have the inauspicious honor of facing his former employer in his first match in charge.
Despite a lack of activity in the transfer market, Los Murciélagos (The Bats) have been quite solid in their seven club friendlies in the off-season winning five and losing two, including the last one against promoted EPL side Brentford at the weekend.
Coach Bordalás will be hoping to carry some of that momentum here.
GETAFE
Like the hosts, Getafe also had a season to forget. They finished in 15th position, just 4 points off the relegation places and their return of 9 wins for the season was their lowest ever in the top flight. They replaced Bordalás with former Real Madrid and Spain international right-back Míchel to turn around the club's fortunes.
They will be quietly confident coming into this match. One of their nine wins last season actually came against Valencia who they beat 3-0 in Getafe and drew 2-2 in Valencia in the reverse game.
Getafe have also gone unbeaten through the off-season friendlies including a credible 2-0 win over Brighton last time out.
Possible Line Ups
VALENCIA
GETAFE

Rivero
Gaya
Alderete
Paulista
Correia
Cheryshev
Racic
Guillamón
Wass
Guedes
Gómez
Coach: José Bordalás

Soria
Suarez
Dakonam
Mitrovic
Olivera
Aleña
Maksimovic
Arambarri
Cucurella
Ünal
Mata
Coach: Míchel

Injured: Domenech (Muscle), Musah (Ankle), Piccini (Back) and Poveda (Knee), Timor (Red Card)
VALENCIA VS GETAFE MATCH FORECAST AND BETTING PREDICTIONS
Getafe have proven to be somewhat of kryptonite to Valencia in recent seasons. They haven't lost to them in any of their last five meetings overall, and in particular, their last 5 straight visits to the Estadio de Mestalla (W2, D3). This is quite an impressive return considering Valencia have for the most part turned their backyard into a fortress of sorts. Last season alone, they picked up 72% of their points tally at the Estadio de Mestalla. We feel this will be another close game but the away side certainly has the capability of stealing the lightning from Valencia's thunder on this opening fixture. We are therefore putting our stock on Getafe to win or draw here @ 1.56 as our first of today's betting tips.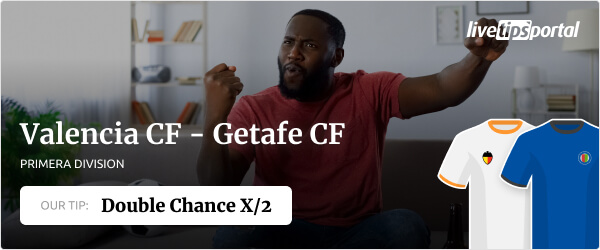 © Livetipsportal
In spite of their struggles at the end of last season, one thing that stood out for Getafe was their somewhat solid defence. In their last 16 matches of the season, they lost quite a number but only conceded more than a goal twice. It's their lack of scoring that came to bite them in the backside. They seem to have carried that form into the off-season, conceding just one goal in their 7 friendlies. We feel they can replicate that form here too and we are picking Valencia to Score less than 2 goals @ 1.43 as our last shout.
With the season kicking off in earnest in all the big European leagues this weekend, brace yourself for our sure wins tomorrow. Our tipsters are all set to fill your wallets and ensure you will be smiling all the way to the bank with our excellent tips!
Our tips
Performance
Valencia FC
Last games
Valencia FC performance of the last 5 home matches
Getafe CF
Last games
Getafe CF performance of the last 5 away matches
Current Standing
| POS | TEAM | PTS | MP | W | D | L | GF | GA | GD |
| --- | --- | --- | --- | --- | --- | --- | --- | --- | --- |
| 1 | | 86 | 38 | 26 | 8 | 4 | 80 | 31 | 49 |
| 2 | | 73 | 38 | 21 | 10 | 7 | 68 | 38 | 30 |
| 3 | | 71 | 38 | 21 | 8 | 9 | 65 | 43 | 22 |
| 4 | | 70 | 38 | 18 | 16 | 4 | 53 | 30 | 23 |
| 5 | | 65 | 38 | 19 | 8 | 11 | 62 | 40 | 22 |
| 6 | | 62 | 38 | 17 | 11 | 10 | 40 | 37 | 3 |
| 7 | | 59 | 38 | 16 | 11 | 11 | 63 | 37 | 26 |
| 8 | | 55 | 38 | 14 | 13 | 11 | 43 | 36 | 7 |
| 9 | | 48 | 38 | 11 | 15 | 12 | 48 | 53 | -5 |
| 10 | | 47 | 38 | 12 | 11 | 15 | 37 | 51 | -14 |
| 11 | | 46 | 38 | 12 | 10 | 16 | 43 | 43 | 0 |
| 12 | | 42 | 38 | 11 | 9 | 18 | 39 | 50 | -11 |
| 13 | | 42 | 38 | 11 | 9 | 18 | 40 | 52 | -12 |
| 14 | | 42 | 38 | 10 | 12 | 16 | 40 | 53 | -13 |
| 15 | | 39 | 38 | 8 | 15 | 15 | 33 | 41 | -8 |
| 16 | | 39 | 38 | 10 | 9 | 19 | 36 | 63 | -27 |
| 17 | | 39 | 38 | 8 | 15 | 15 | 35 | 51 | -16 |
| 18 | | 38 | 38 | 8 | 14 | 16 | 44 | 61 | -17 |
| 19 | | 35 | 38 | 8 | 11 | 19 | 51 | 76 | -25 |
| 20 | | 31 | 38 | 8 | 7 | 23 | 31 | 65 | -34 |
Legend
Champions League

Europa League

Europa Conference League Quali.

Abstieg