Wolverhampton Wanderers
VS
Arsenal FC
Molineux Stadium
Wolverhampton
Wolverhampton Wanderers FC - Arsenal FC betting tip & odds comparison 10.02.2022
Gameweek 24 in the Premier League will see the clash between Wolverhampton Wanderers and Arsenal FC at Molineux Stadium. Kick-off time is at 8:45 PM on Feb 10, 2022. In our preview of Wolverhampton Wanderers vs. Arsenal FC we will provide you with all the important facts and stats for this Premier League fixture. Let's start by having a look at the current form of the two teams involved.
Here, you have all Premier League predictions at a glance. We provide you with detailed forecasts for every matchday. In addition to that, you can also find a comprehensive odds comparison.
Wolverhampton Wanderers were victorious in 4 of their previous 5 league matches (4 wins, 1 draw, 0 defeats. In the current Premier League season 2021/2022, Wolverhampton Wanderers were able to win 4 of their 10 games at home, with a total of 2 draws, and 4 defeats (Goal difference 8:8).
Arsenal FC have won 3 of their last 5 Premier League encounters (3 wins, 1 draw, 1 defeats. The away record in this year's Premier League season for Arsenal FC reveals the following stats: 4 wins, 1 draw and 5 defeats - Goal difference 15:17.
Out of the last five Premier League encounters between the two teams, Wolverhampton Wanderers won 3. In 1 match the points between the two sides were shared, and 1 time Arsenal FC got the win. If we look at the home record of Wolverhampton Wanderers against Arsenal FC, the stats are as follows: 2 wins Wolverhampton Wanderers, 0 draws and 3 wins Arsenal FC.
Naturally, you can follow our advice and place the same bet free of charge. If you decide to do so at a new bookie, you can benefit from the Betway welcome bonus. We have already tested the offer for you in detail.
This Thursday, Wolverhampton will confront Arsenal at Molineux Stadium in a 24th round Premier League fixture. The last two meetings did not end well for the visitors as they did receive a back to back losses at home and on the road. Join our sports analyst to read all the reviews and proper betting strategies when wagering on this game from the pool our Premier League tips.
Wolverhampton Wanderers
If you backdate up to November 2018 Wolves are seen to be dominant and unbeaten in 4 games out of 5 whenever they met Arsenal. The current status shows things are going according to plan to the Wolves in Premier League as they have never tasted a loss in their recent 5 games. Mind you, they might be in the quest to extend their dominance over Arsenal during this moment, at least a draw would mark their record, hence expect nothing to change in their attacking style, and most importantly they are expected to be very cautious when they take on Arsenal.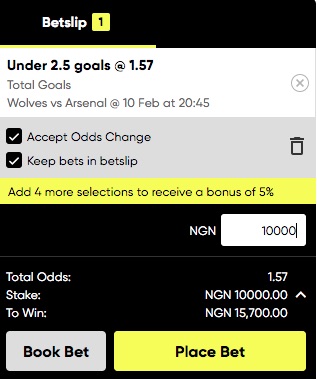 Arsenal FC
A goalless draw with Burnley did manage to help Arsenal earn something in their recent fixture. Scoring just a goal in five games is giving Arteta a hard time in the office. The Gunners, on the other side, are without Pierre-Emerick Aubameyang, who joined Barcelona in the last transfer window. We still hope for their current pattern in their frontline and yet Alexandre Lacazette will lead the line in his place.
Possible Lineups
Wolverhampton Wanderers
Jose Sa
Coady
Gomes
Kilman
Semedo
Neves
Moutinho
Ait Nouri
Dendoncker
Podence
Silva
MISSING PLAYERS: Boly (Leg injury), Mosquera (Hamstring), Otto (Knee injury), Hwang (Hamstring)
Arsenal FC
Ramsdale
Tomiyasu
Gabriel
White
Tierney
Partey
Xhaka
Martinelli
Odegaard
Saka
Lacazette
Our Wolverhampton Wanderers vs. Arsenal FC betting tips
This is going to be a very tough fixture given the gunners are still on the lookout for what went wrong. As the visitors will be undoubtfully wishing to avenge their last two back to back to losses we forsee Wolves' backline being very compact to terminate the wishes of Arteta thus be among the lucky punters who will take advantage of the Parimatch Bonus (up to ₦111,000/TZS 1 million) to wager on Under 2.5 Goals at 1.57 odds for this selection.
We still have high hopes for the hosts to keep a point on this night hence there is a big chance for them to win this game or draw as a result of the scarcity of goals from Arsenal FC. From our list of Africa Number one betting site, Mrxbet is offering top odds for this selection at 1.64 odds.
Performance
Wolverhampton Wanderers
Last games
Wolverhampton Wanderers performance of the last 5 home matches
Arsenal FC
Last games
Arsenal FC performance of the last 5 away matches
Current Standing
| POS | TEAM | PTS | MP | W | D | L | GF | GA | GD |
| --- | --- | --- | --- | --- | --- | --- | --- | --- | --- |
| 1 | | 93 | 38 | 29 | 6 | 3 | 99 | 26 | 73 |
| 2 | | 92 | 38 | 28 | 8 | 2 | 94 | 26 | 68 |
| 3 | | 74 | 38 | 21 | 11 | 6 | 76 | 33 | 43 |
| 4 | | 71 | 38 | 22 | 5 | 11 | 69 | 40 | 29 |
| 5 | | 69 | 38 | 22 | 3 | 13 | 61 | 48 | 13 |
| 6 | | 58 | 38 | 16 | 10 | 12 | 57 | 57 | 0 |
| 7 | | 56 | 38 | 16 | 8 | 14 | 60 | 51 | 9 |
| 8 | | 52 | 38 | 14 | 10 | 14 | 62 | 59 | 3 |
| 9 | Brighton & Hove Albion FC | 51 | 38 | 12 | 15 | 11 | 42 | 44 | -2 |
| 10 | Wolverhampton Wanderers FC | 51 | 38 | 15 | 6 | 17 | 38 | 43 | -5 |
| 11 | | 49 | 38 | 13 | 10 | 15 | 44 | 62 | -18 |
| 12 | | 48 | 38 | 11 | 15 | 12 | 50 | 46 | 4 |
| 13 | | 46 | 38 | 13 | 7 | 18 | 48 | 56 | -8 |
| 14 | | 45 | 38 | 13 | 6 | 19 | 52 | 54 | -2 |
| 15 | | 40 | 38 | 9 | 13 | 16 | 43 | 67 | -24 |
| 16 | | 39 | 38 | 11 | 6 | 21 | 43 | 66 | -23 |
| 17 | | 38 | 38 | 9 | 11 | 18 | 42 | 79 | -37 |
| 18 | | 35 | 38 | 7 | 14 | 17 | 34 | 53 | -19 |
| 19 | | 23 | 38 | 6 | 5 | 27 | 34 | 77 | -43 |
| 20 | | 22 | 38 | 5 | 7 | 26 | 23 | 84 | -61 |
Legend
Champions League

Europa League

Europa Conference League Quali.

Relegation