Mybet.Africa is one of the major players in the online betting industry in Africa and they are slowly but surely carving a niche for themselves in the online betting industry. Their operation in Ghana is regulated by the Gaming Commission of Ghana and in Nigeria; they are licensed and regulated by the National Lottery Regulatory Commission.
They started operations in 2014 and since then they have taken no prisoners. Having built a reputation of reliability and consistency, they are fast becoming favourite bookmakers for Punters. Mybet.Africa is particularly tailored to the needs of bettors in the countries where they operate and there is so much in store for customers.
WHY YOU SHOULD REGISTER ON MYBET AFRICA
Mybet Registration comes with a lot of benefits and it's such an easy process. Once your account is set up, you will be welcomed with loads of amazing stuff.
For starters, the Mybet Africa sportsbook is one of the most diverse you will find around. Various sports are available to bet on. Additionally, the betting markets are also numerous. Live betting is also adequately provided for along with a glut of betting options. The website is safe and secure, so customers can sleep with their eyes closed. There is also a myriad of deposit methods available to customers. Whatever your preferences are, Mybet Africa caters to users in many different ways. The Mybet.Africa welcome bonus is another reason why you should pitch your tent with this bookmaker. It offers a acca win bonus up to 350% – and the good thing is not only to new customers, but to all members with a Mybet account.
The company owns a raft of betting shops across Accra and a few other major cities in Ghana. So customers can access their services offline. These are all features of one of the best betting companies in Ghana and if you are already thinking about Mybet registration, we will show you how Mybet Africa registration works.
Read on to find out how to create Mybet account.

HOW TO REGISTER ON MYBET AFRICA
Whether you choose to start the process via Mybet.Africa mobile app or on the desktop, Mybet Africa only take a few minutes to be completed. Mybet Africa currently only operates in Nigeria and Ghana. Thus, if you are not a resident of these two West African countries, you will not be able to complete Mybet registration form.
Meanwhile, for residents of Ghana and Nigeria, the registration is a walk in the park. All you need is your mobile number and a few other personal details to initiate and complete Mybet sign up process. For more on how to create Mybet account, we have itemized the simple processes you have to follow to get your Mybet sign up done.
Log on to www. Mybet.africa
Click on the Register button and fill the form with required personal details such as mobile phone numbers, email address and Password. An email will be needed to verify your account.
Complete your Mybet Africa registration by checking the terms and conditions box below the registration form and push the green sign up button.
A link will be sent to the email address you provided, click on the link to verify your account.
Now that your Mybet Africa registration is completed, you can start enjoying placing bets on one of the best betting sites in Africa.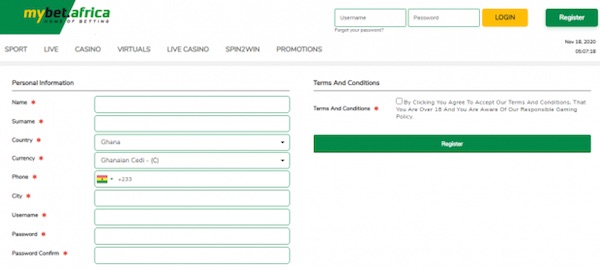 MYBET AFRICA WELCOME BONUS
Mybet.Africa has an exciting offer for new and long-served customers. They are offering a whopping up to 350% on your accumulator bets.
Once your Mybet registration is done, verify your account and make a deposit and place a multibet. It can contain from 2 selections up to 30. The more selections you add, the higher is you Mybet bonus. The minimum qualifying stake is just 1 GHS. With no opt in required, the promotion is available once you start wagering on multi bets.
Important is that each selection has odds of 1.30 or higher. This offer is available at any time. You can win a maximum of GHS 100,000. The bonus money will be credited to you main Mybet account.
WHAT ARE THE TERMS AND CONDITIONS
We have made a compilation of some of the terms and conditions as set by this bookmaker so you don't run into any brick wall or constraints with your betting account.
You may only have one unique account in your name.
Any taxes on your winnings is exclusively your responsibility.
You cannot sell or transfer your account, or acquire accounts from other players.
It is prohibited to transfer funds between player accounts.
The company reserves the right to refuse the opening of an account from any applicant or close the account at any time without any obligation to communicate a reason.
The company reserves the right to withhold any funds deposited in your account because of a violation of the rules mentioned in the terms and conditions.
You can contact Mybet Africa if you want to close your account.
You can set from your account options self-conclusion for an indefinite or definite time and limits on deposits, losses and wagers.
You have to be at least 18 years and above to use Mybet Africa
It is forbidden to open an account with the personal details of someone else
Now that your Mybet.Africa registration is done and you are now ready to place your first bet, you can take advantage of our betting strategies to get off to a winning start.
CONCLUSION
We have shown you how to create Mybet account and you would have discovered that Mybet registration is easy and super fast. Being a proud owner of a brand new account on one of the most reliable and secure betting sites, you are well on your way to a great betting experience.
It is important to remember that there are massive bonuses and promotions for you when you complete Mybet sign up. To find out more go ahead and check our Mybet.Africa review.