We are witnessing the huge rise in the number of betting clients from different countries across Africa, Tanzania being among them has led to the emergence of the best betting sites in Tanzania that offers a variety of markets from the top leagues while Mkekabet being among of the unique popular online betting company from the pool of the bookmaker.
Putting Mkekabet in the spotlight, it has received a good rating because of being mobile responsive in both platforms of iOS and Android and their effective application of the FSB Technology's software and products. This is the biggest compensating feature for Mkekabet Mobile App which is still in the development phase. Our main focus in this article will be on the Mkekabet site which has caught the attention of many users by being more friendly, faster, and serving clients in real-time having most payment methods that is widely used by all of Tanzania.
Unless you're not sure how to get started with using the Mkekabet website on Android, iOS, or Windows, follow the listed steps below, and will show you how you can easily access to start your mobile betting experience and benefit our betting tips today and sure wins for tomorrow. Enjoy being the first clients within a few seconds:
📲 Don't miss out on the reviews of all the other bookmaker mobile app!
INSTALLATION OF THE MKEKABET MOBILE APP ⇧
As we await the coming of the new Mkekabet Mobile App version most people are currently prefer to wager the events on Mkekabet using the Mobile responsive site which is easily accessible using any mobile phone browser. This has given a lot of clients the hustle-free routine of downloading the mobile app APK from the site. An active connection to the internet and the Android or iOS mobile are the only things for you to start exploring the Mkekabet.
With the Mkekabet Mobile lite site, you can forget about running out of storage space in your phone while it maintaining being opened very fast at different internet speeds. This has been made possible due to fewer site widgets which has reduced clients' distractions while offering the real-time live betting experience.
It can be accommodated by all popular browsers like Google Chrome, Firefox, Safari, and UC browser which are all available in Windows, iOS, and Android phones.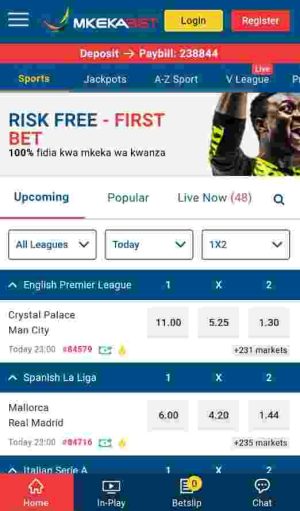 REGISTRATION AT MKEKABET MOBILE ⇧
In order to register with the Mkekabet site, you must have met the minimum requirement which is of not having an existing active account with Mkekabet. Otherwise, be prepared to leverage the existing Mkekabet Risk Free First Bet when you become the first client.
It requires only three simple steps for you to get started by filling in the two mandatory details named mobile phone number and password as listed below:
For signing up, go to the Mkekabet site and click the register button in the upper right corner.
You'll then be asked to enter your telephone number and password on a signup form.
You can enter your password preceded by your mobile phone number.
After you have confirm your password and age then click Signup.
Expect to receive an SMS having your password, company number (to be used in USSD), and the Mkekabet quick support details in a matter of seconds.
Then you are ready to start enjoying using the Mkekabet Mobile responsive site while you take advantage of Mkekabet current offer.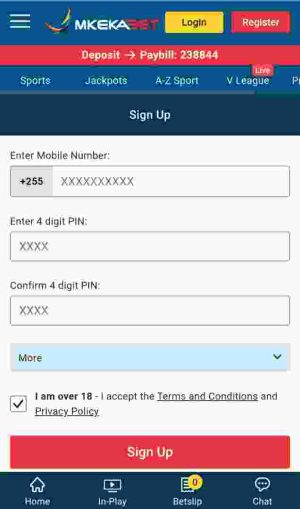 DEPOSITS AND WITHDRAWAL ⇧
Mkekabet allows deposits from Tigo, Vodacom, and Airtel, the three major Tanzanian telecoms carriers.
This may be done either using the website's direct tap and pay functionality or by utilizing USSD with a 500 TZS minimum deposit. Here is a detailed explanation of all the methods a client can choose from:
The online system's tap and pay feature is extremely simple to use; simply enter the amount and click deposit; you will then be prompted for a password for your mobile money account via a pop-up screen. The money will successfully credited into your account as soon as you finish typing your password.
But if you want to utilize USSD, just dial *150*00# for M-PESA and *150*01# for Tigopesa. Then go to Pay Bill and type in 238844 for the business number, MKEKA/12345 for the reference number, and the amount you want to deposit for the amount. You will be done once you've entered the password for that mobile money account and confirmed the amount you wish to deposit.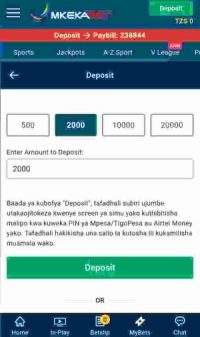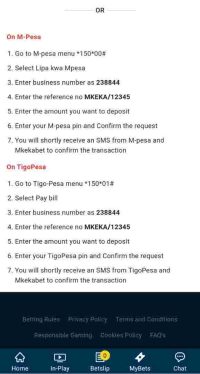 NOTABLE FEATURES ⇧
Mkekabet is more focused on the creation of a wider customer base while exceeding the punters' expectations. This has led to the implementation of the most distinct features that allowed the site to be accessed even in the slowest network. With Mkekabet responsive site the online betting experience has been redefined and this has helped the site to stand out despite having the mobile app still in the production room.
We have covered and focused on providing details of the important features liked by most Mkekabet clients.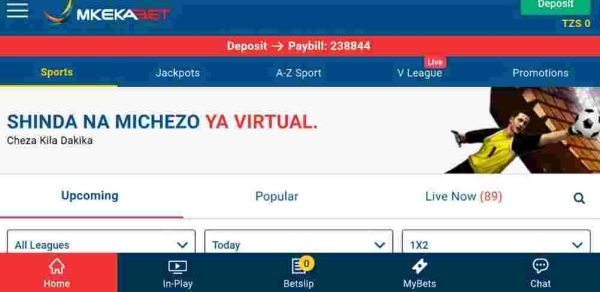 Live Betting
When visiting the Mkekabet site you can find the In-Play features. The In-Play feature speaks for itself meaning the ongoing matches on the pitch; this feature allows to wager on the Mkekabet market while the match is live on the pitch and this is for all the favorite sports that are Football, Basketball, Tennis, Volleyball, Baseball, eSport, and many more. There is no limit on the total number of event selections for the Live match.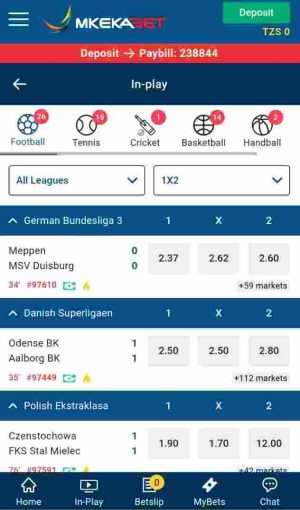 Cash Out Feature
With Mkekabet cashout, all clients are now in control of their bets as it offers a chance to collect your payout before the final whistle blow. This feature has two categories that is Live Cashout and Pre Game Cashout. The live cashout allows you to collecct your money for games that are in-play while with pre-game cashout where client can choose to cashout on multiple bets that has been settled.
USABILITY AND IMPRESSIONS ⇧
Mkekabet site is easy to use and has mobile-friendly features that allowed it to open fast in any network state and on a variety of mobile phones with varying capacity. The FSB technology ensures that all Mkekabet users get a real-time betting experience. Their customer service department may be contacted directly from the website using a chat app.
Furthermore, they provide customer service via their mobile number and email address 24 hours a day, 7 days a week. Nonetheless, there is a sufficient knowledge base database to assist their consumers in obtaining answers about the Mkekabet online bookmaker. This may be found on the Mkekabet website's FAQ page.
Mkekabet is the only sportsbook that allows you to withdraw money by SMS. This has helped them distinctive and make their clients' transactions more smoother.
SPORTS BETTING WITH MKEKABET MOBILE APP ⇧
Mkekabet's users may wager on or participate in a wide range of sports, tournaments, leagues, and markets.
The 18 sports accessible for betting include football, tennis, basketball, boxing, baseball, cricket, rugby union, American football, darts, golf, and handball. Unless you're newbie to wagering, we have the betting glossary to guide in you in betting life.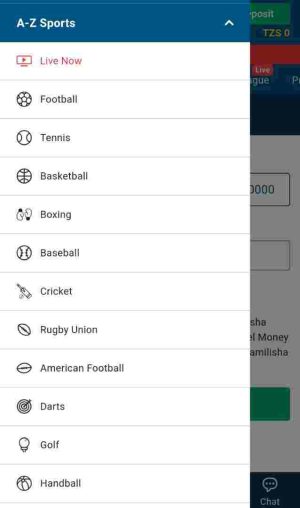 So Mkekabet mobile is suited well to place different kind of bets and perfectly fine to use our sure multibet tips.
CONCLUSION ON MKEKABET MOBILE APP TEST ⇧
Mkekabet has merged to be the top class site as result of implementation of state of an art technologies that reachout to the huge population even in poor network locations. This has created a betting atmospere which is smoother and reliable. The best part is all features are fit to be used by any mobile devices including iOS and Android. With Mkekabet you can opt to save your phone storage by using the site instead of the Mobile App.
Being among of the best African betting sites Mkekabet has ease the payout methods as it choose to integrate their betting platforms with African top mobile money firms while implementing the tap and pay option.