There are countless ways to bet, several strategies and betting systems. One of the most interesting types/ betting strategies is Head to Head betting, which has become more and more popular in the last couple of years. In this article we want to familiarise you with the Head to Head betting system and explain H2H using very simple examples.
What is a head to head bet?
The concept of a Head to Head bet finds its origins in horse racing. It is the English name for Head to Head races and is often abbreviated with H2H. In a Head to Head bet, the comparison is exclusively drawn between two competitors. The performance of all other competitors is irrelevant.
A H2H bet always offers the players two possibilities to place a tip. You either bet on a victory for A or B, or a defeat for A or B. For example you can use a Head to Head bet to compare ski racers or motor sports pilots with each other. However, its popularity is increasing in football. You can bet on whether a team collects more points throughout the season than another, or whether a player scores more goals than the other. The Head to Head tips are a very simple type of bet, which is especially useful for newcomers or inexperienced betters. For our new/inexperienced users we also have an interesting article about safe- or surebets.
For which sports the head to head strategy is particularly suitable?
Head to Head bets are of particular interest for individual sports, and especially in any form of racing, specifically in motor sports. Be it Formula 1, Moto GP or any other car- and motor sports, Head to Head bets offer a broad variety of possibilities on ways to place a bet. In most of the motor sports, like Formula 1, Head to Head bets offer two types of bets – you can either bet on the team (team-H2H-bet) or on the individual driver.
Yet this form of betting does not enjoy popularity exclusively in motor sports. As mentioned before, the origins of Head to Head bets can be found in horse racing, where this type of betting still is very popular and often offers attractive odds. This strategy, for example, is greatly suited to ski racing and golf. Two golf professionals are compared over the course of a tournament. Often, H2H bets can be very profitable in this sport, since players often come from behind after underperforming in the first rounds. So once you get the feel for the right timing, the profit can be quite extraordinary.
Examples for head to head bets
We have a practical example with a real betting slip. Since you cannot play Head to Head bets as a combination, we have set two single bets. At bet 1, we have decided in favour of Daniel Ricciardo, who, we believe, will finish ahead of his teammate Sebastian Vettel Alonso in the next Grand Prix.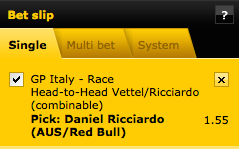 Alpine skiing: Marcel Hirscher or Felix Neureuther? Which competitor achieves the better placement?
Football: Marco Reus or Mario Götze? Who is going to score more goals throughout the Champions League season?
Tennis: Rafael Nadal or Roger Federer? Which tennis star is first to fail in the tournament?
Can you earn money with head to head bets?
Unlike a scorebet or halftime/fulltime bet, there are only two possible outcomes for a head to head bet. This keeps the risk at a quite manageable range. A possible disadvantage are the often very low odds associated with head to head bets.
However, anyone who possesses extensive knowledge in a respective sport, can also place their bets on riskier alternatives with the chance of higher odds and more money. Also Head to Head bets are great for cheer and excitement, because, what is more exciting than betting on a Formula 1 driver and then watching the race? If you are looking for a new way to bet, you should check out our article about lucky 15 bets.