1. FC Union Berlin
VS
RB Leipzig
An der Alten Försterei
Berlin
1. FC Union Berlin - RB Leipzig betting tip & odds comparison 03.12.2021
Gameweek 14 in the Bundesliga will see the clash between 1. FC Union Berlin and RB Leipzig at An der Alten Försterei. Kick-off time is at 8:30 PM on Dec 3, 2021. In our preview of 1. FC Union Berlin vs. RB Leipzig we will provide you with all the important facts and stats for this Bundesliga fixture. Let's start by having a look at the current form of the two teams involved.
Here, you have all free betting tips for Bundesliga at a glance. We provide you with detailed forecasts for every matchday. In addition to that, you can also find a comprehensive odds comparison.
1. FC Union Berlin were victorious in 1 of their previous 5 league matches (1 win, 2 draws, 2 defeats. In the current Bundesliga season 2021/2022, 1. FC Union Berlin were able to win 4 of their 7 games at home, with a total of 2 draws, and 1 defeat (Goal difference 10:7).
RB Leipzig have won 2 of their last 5 Bundesliga encounters (2 wins, 1 draws, 2 defeats. The away record in this year's Bundesliga season for RB Leipzig reveals the following stats: 0 wins, 3 draws and 3 defeats - Goal difference 3:7.
Out of the last five Bundesliga encounters between the two teams, 1. FC Union Berlin won 1. In 0 matches the points between the two sides were shared, and 4 times RB Leipzig got the win. If we look at the home record of 1. FC Union Berlin against RB Leipzig, the stats are as follows: 2 wins 1. FC Union Berlin, 1 draw and 1 win RB Leipzig.
Naturally, you can follow our advice and place the same bet free of charge. If you decide to do so at a new bookie, you can benefit from the Melbet registration bonus. We have already tested the offer for you in detail.
Union Berlin and RB Leipzig will kickoff this set the ball rolling for this weekend's Bundesliga action when they square off at Union's An der Alten Forsterei on Friday evening.

Union will be looking to get back on track following a bitter last against Frankfurt while RB Leipzig have been out of sorts with a series of deflating results that has them reeling down the table.

This will be an intriguing battle and we will focus on Yangasport for our tips in this Bundesliga prediction.
UNION BERLIN
Frankfurt's Evan Dicka's match-winner in the 5th minute of stoppage time cut through Union Berlin's collective psyche like a knife through butter as they were left ruing what could have been a shared point which turned into a 2-1 loss last weekend.

They will be glad to be back in their backyard which has been an absolute fortress for them with just a single defeat here in their seven home league games this term. That single loss came against Bayern Munich and there is no shame in losing to one of the best teams in Europe.

Despite the loss, Union are in 6th place on the log, which is a spot better than the remarkable 7th place finish that earned them a slot in the Europa Conference. They have set their sights higher this time and will spare no effort in trying to actualize them.
RB LEIPZIG
Leipzig have been a pale shadow of the perennial top four finishers from the last few years. Ahead of this trip to the capital, they find themselves in 8th place after back to back league losses away at Hoffenheim and at home to Leverkusen last time out.

New manager Jesse March has struggled to establish any kind of rhythm here with his side blowing hot and cold to start the season, losing as many games as they have won.

His cause has not been helped by a COVID-19 outbreak that has spread like bushfire in the squad, including himself. In his absence, his assistant Achim Beierlorzer has been running the show. That aside, the Red Bulls away record has been abysmal and they will have their work cut out here.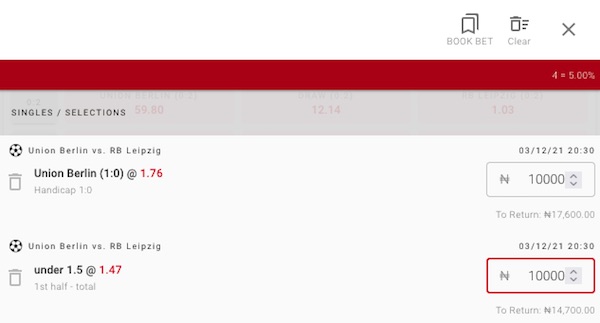 POSSIBLE LINEUPS
UNION BERLIN
Luthe
Friedrich
Knoche
Baumgartl
Trimmel (c)
Khedira
Prömel
Gießelmann
Haraguchi
Kruse
Awoniyi
MISSING PLAYERS: Behrens (Match fitness)
RB LEIPZIG
Martinez
Mukiele
Klostermann
Gvardiol
Angelino
Adams
Kampl (c)
Nkunku
Forsberg
Szoboszlai
Silva
MISSING PLAYERS: Halstenberg (ankle), Olmo (thigh), Poulsen (calf), Saracchi (knee), Gulacsi (Quarantine), Novoa (Quarantine), Orban (Quarantine), Simakan (Quarantine)
UNION BERLIN VS RB LEIPZIG PREDICTIONS
Union's home record makes it impossible to ignore. They have routinely put teams to the sword here with ease. They are the long shot according to bookies but we feel the bookies do not have their pulse on what has been an impressive showing by the home team at this venue this season. That, combined with RB Leipzig's terrible record on the road, plus their COVID issues makes it impossible to ignore Union's potential edge in this game. We are picking them to win with a +1 handicap which is priced @ 1.86 at Yangasport our initial betting tip.

With both teams having lost their last matches, we feel they will approach this match with a bit of caution so as not to slide any further. As such we fancy the 1st half of the game to be a bit close with neither team willing to cede too much ground to start the game. Under 1.5 Goals @ 1.44 with Yangasport also looks attractive enough and we are snapping it up for our last call.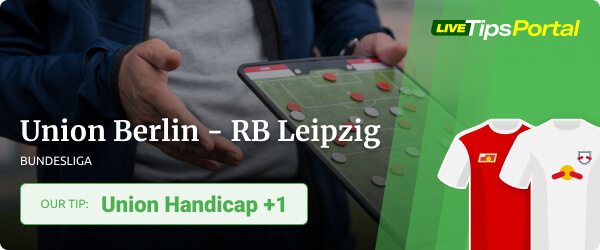 This being just a teaser, take a look at our other football prediction for tomorrow which includes all the top games from the top European Leagues including the EPL, La Liga, Serie A and Bundesliga!
Performance
1. FC Union Berlin
Last games
1. FC Union Berlin performance of the last 5 home matches
RB Leipzig
Last games
RB Leipzig performance of the last 5 away matches
Current Standing
| POS | TEAM | PTS | MP | W | D | L | GF | GA | GD |
| --- | --- | --- | --- | --- | --- | --- | --- | --- | --- |
| 1 | | 77 | 34 | 24 | 5 | 5 | 97 | 37 | 60 |
| 2 | | 69 | 34 | 22 | 3 | 9 | 85 | 52 | 33 |
| 3 | | 64 | 34 | 19 | 7 | 8 | 80 | 47 | 33 |
| 4 | | 58 | 34 | 17 | 7 | 10 | 72 | 37 | 35 |
| 5 | | 57 | 34 | 16 | 9 | 9 | 50 | 44 | 6 |
| 6 | | 55 | 34 | 15 | 10 | 9 | 58 | 46 | 12 |
| 7 | | 52 | 34 | 14 | 10 | 10 | 52 | 49 | 3 |
| 8 | | 46 | 34 | 13 | 7 | 14 | 50 | 45 | 5 |
| 9 | | 46 | 34 | 13 | 7 | 14 | 58 | 60 | -2 |
| 10 | | 45 | 34 | 12 | 9 | 13 | 54 | 61 | -7 |
| 11 | | 42 | 34 | 10 | 12 | 12 | 45 | 49 | -4 |
| 12 | | 42 | 34 | 12 | 6 | 16 | 43 | 54 | -11 |
| 13 | | 42 | 34 | 12 | 6 | 16 | 38 | 52 | -14 |
| 14 | | 38 | 34 | 10 | 8 | 16 | 39 | 56 | -17 |
| 15 | | 33 | 34 | 7 | 12 | 15 | 41 | 59 | -18 |
| 16 | | 33 | 34 | 9 | 6 | 19 | 37 | 71 | -34 |
| 17 | | 28 | 34 | 5 | 13 | 16 | 27 | 53 | -26 |
| 18 | | 18 | 34 | 3 | 9 | 22 | 28 | 82 | -54 |
Legend
Champions League

Europa League

Europa Conference League Quali.

Relegation play-off

Relegation