Bayern Munich
VS
Red Bull Salzburg
International
Champions League
Bayern Munich - Red Bull Salzburg FC betting tip & odds comparison 08.03.2022
In gameweek 2 of Champions League, Bayern Munich will host Red Bull Salzburg at Allianz Arena. Kick-off is scheduled for 9:00 PM on Mar 8, 2022, and the fixture will be refereed by Clément Turpin. With our match prediction and odds comparison for Bayern Munich vs. Red Bull Salzburg you are guaranteed to get all the important facts and details for this fixture. First and foremost, we will take a close look at the teams' recent performances.
Livetipsportal is your expert-level platform for bet tips for today. We offer you the best sports betting predictions for the world's top leagues as well as for the most popular international competitions in football.
Bayern Munich were victorious in 4 of their previous 5 league matches (4 wins, 1 draw, 0 defeats. In the current Champions League season 2021/2022, Bayern Munich were able to win 3 of their 3 games at home, with a total of 0 draws, and 0 defeats (Goal difference 13:2).
You want to place a bet at a bookie you haven't signed up with yet? In this case, we can recommend the 1xbet welcome bonus for newly customers. We have already tested this offer for you.
Bayern Munich will host Salzburg at the Allianz Arena on Tuesday's UEFA Champions League evening fixture with the hopes of securing a spot in the Champions League quarter-finals. Following their 1-1 tie, we have widely covered the possible final outcomes of their 2nd leg, including their alternate Champions League predictions as analyzed by our sports experts.
Bayern Munich
Though we are seeing 4 undefeated recent matches, still does not change the fact that Bayern's frontline needs more workouts to avoid the trick UCL exit situation at home. Bayern is among of the favorite team to be guessed to win the UEFA Champions League title but this is football, only the pitch decide the destiny of any team. As part of the assurance to advance to the next round, Bayern is expected to show no mercy during this match.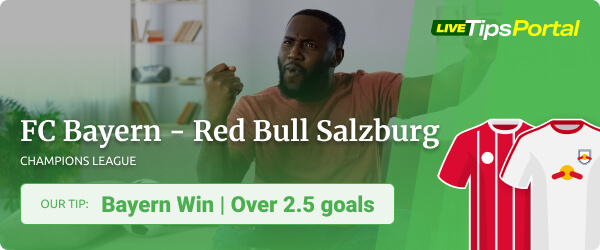 Red Bull Salzburg
Marking the 3rd recent Clean Sheet, the reds might be having high confidence to take on Bayern after a successful contain them at home in their 1 st leg. This is one of the very challenging matches for the visitors as they face the biggest mountain climbing task. We expect more input to be focused on their defensive line while applying a cautious game.
Possible lineups
Bayern Munich
Ulreich
Pavard
Sule
Upamecano
Hernandez
Kimmich
Musiala
Coman
Muller
Sane
Lewandowski
MISSING PLAYERS: Davies (Heart problems), Tolisso (Hamstring injury), Goretzka (Knee injury), Neuer (Meniscus injury)
Red Bull Salzburg
Kohn
Wober
Solet
Kristensen
Ulmer
Capaldo
Camara
Bernede
Aaronson
Adeyemi
Okafor
MISSING PLAYERS: Okoh (Cruciate Ligament Injury), Diakite ( Cruciate Ligament Injury), Junuzovic (Heel injury), Koita ( Cruciate Ligament Injury ), Vallci (ACL injury), Bernado (Knee injury)
Prepare yourself to live stream this game from most of the betting sites in Africa for free.
Our Bayern Munich vs. Red Bull Salzburg betting tips
Seeing the Allianz Arena as the fortress to Bayern, the home win is highly anticipated. Little can be expected from the visitors due to the reality that Bayern is seeking a clear passage to their quarter-final. As we see too many key players from Bayern are fit to play this encounter then Parimatch TZ & NG can help you earn the most favorable returns as you select this market.
Yet, we believe the need to score more goals compare to 1st leg is very high hence expect to see at least 3 goals going into the nets this night while the two might be coming from the hosts with Lewandowski scoring the opening goal. Game ON, choose the Over 2.5 Goals as the most accurate predictions for this match while leveraging the Betway welcome bonus.
Performance
Bayern Munich
Last games
Bayern Munich performance of the last 5 home matches
Red Bull Salzburg
Last games
Red Bull Salzburg performance of the last 5 away matches