Burnley FC
VS
Manchester City
Burnley FC - Manchester City FC betting tip & odds comparison 02.04.2022
Betting Tip for matchday 31 of the 2021/2022 Premier League between Burnley FC and Manchester City FC. The game will be played at Turf Moor (Burnley, England) on 02.04.2022 at 16:00.
Title-chasing Manchester City will be the guest of relegation-threatened Burnley at Turf Moor on Saturday.
The host are fighting to keep their Premier League status at the end of the current campaign, while City are looking to maintain their three points advantage over the nearest challenger, Liverpool.
We have looked at all the betting angles and we present our betting tips for this fixture.
As a new customer benefit of the really good Melbet bonus terms and conditions and an extra 30% bonus money with the promo code ml_110049.
BURNLEY
Burnley have ridden their luck or punched above their weight since their return to the English top-flight five years ago after finishing 16th, 7th, 15th, 10th, and 17th respectively but this feels like the season they will get relegated except their form change in their remaining eleven league matches.
The Clarets have won just three matches all season in the league, two of those wins came in this calendar year, and have lost their last three games without scoring.
Sean Dyche's side are known for their defensive solidity. They have managed to still keep a semblance of that reputation as only Brighton have conceded less (36 goals) than the Clarets (38 goals) in the bottom half of the table despite languishing 19th on the log.
If Burnley wants to remain in the topflight next season, they have to start winning games, but Manchester City might be a tough nut to crack for Sean Dyche's men.
🇬🇭 BetFox is definitely one of the fast improving betting companies in Ghana and worth a try!
MANCHESTER CITY
In January, City were the undisputed favourites to win the Premier League title. They had what seemed like an unassailable lead. But all that seemed like ages ago now as they are only three points ahead of Liverpool.
Come Saturday afternoon, City may be knocked off the top spot for the first time since December if Liverpool wins against Watford in the early kick-off.
Pep Guardiola's men have won three of their last five league games (1D, 1L) and will need to get back to winning ways after their goalless draw at Selhurst Park before the International break and Turf Moor has been a good ground for them lately after winning their last four games there and scoring ten goals in the process.
The Citizens have not suffered a loss on the road since their opening game loss to Tottenham and they go into a season-defining month of April where they face Liverpool in the league and FA Cup semi-final sandwiched between a Champions League quarter-final doubleheader against Atletico Madrid.
Possible Line Ups
BURNLEY
Pope
Tarkowski
Ward
Taylor
Roberts
Lennon
Westwood
Brownhill
McNeil
Cornet
Weghorst
MISSING PLAYERS: Gudmundssson (Illness), Mee (Knee Injury), Pieters (Knee Injury)
MANCHESTER CITY
Ederson
Cancelo
Walker
Stones
Laporte
De Bruyne
Rodri
Gundogan
Sterling
Foden
Mahrez
MISSING PLAYERS: Dias (Thigh Injury), Mendy (Suspended)
BURNLEY VS MANCHESTER CITY BETTING PREDICTIONS
If Manchester City are to maintain their hopes of winning the Premier Leagur title, they have to strive to get all three points in this match. From all indications, it looks like a fixture they can win easily given the struggles of the host this season.
Therefore, we are backing the visitors to win. Melbet has the odds for Manchester City Victory at 1.26.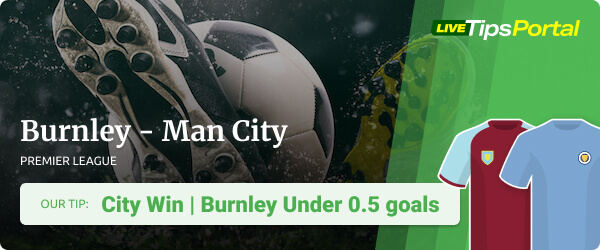 Another angle to look at is the lack of goals for the host. They are struggling to put Balls in the back of the net.They have only managed to score two in their last five outings and no goals in their last three matches.
They are not likely to break the duck against Manchester City. Hence, we are backing Burnley Under 0.5 Goals on Betfox. If you're on the road you can place the bets easily with the BetFox app.
Looking for more Premier League betting tips? We have a quite a lot covering all the games!
Performance
Burnley FC
Last games
Burnley FC performance of the last 4 home matches
Manchester City
Last games
Manchester City performance of the last 6 away matches
Current Standing
| POS | TEAM | PTS | MP | W | D | L | GF | GA | GD |
| --- | --- | --- | --- | --- | --- | --- | --- | --- | --- |
| 1 | | 93 | 38 | 29 | 6 | 3 | 99 | 26 | 73 |
| 2 | | 92 | 38 | 28 | 8 | 2 | 94 | 26 | 68 |
| 3 | | 74 | 38 | 21 | 11 | 6 | 76 | 33 | 43 |
| 4 | | 71 | 38 | 22 | 5 | 11 | 69 | 40 | 29 |
| 5 | | 69 | 38 | 22 | 3 | 13 | 61 | 48 | 13 |
| 6 | | 58 | 38 | 16 | 10 | 12 | 57 | 57 | 0 |
| 7 | | 56 | 38 | 16 | 8 | 14 | 60 | 51 | 9 |
| 8 | | 52 | 38 | 14 | 10 | 14 | 62 | 59 | 3 |
| 9 | Brighton & Hove Albion FC | 51 | 38 | 12 | 15 | 11 | 42 | 44 | -2 |
| 10 | Wolverhampton Wanderers FC | 51 | 38 | 15 | 6 | 17 | 38 | 43 | -5 |
| 11 | | 49 | 38 | 13 | 10 | 15 | 44 | 62 | -18 |
| 12 | | 48 | 38 | 11 | 15 | 12 | 50 | 46 | 4 |
| 13 | | 46 | 38 | 13 | 7 | 18 | 48 | 56 | -8 |
| 14 | | 45 | 38 | 13 | 6 | 19 | 52 | 54 | -2 |
| 15 | | 40 | 38 | 9 | 13 | 16 | 43 | 67 | -24 |
| 16 | | 39 | 38 | 11 | 6 | 21 | 43 | 66 | -23 |
| 17 | | 38 | 38 | 9 | 11 | 18 | 42 | 79 | -37 |
| 18 | | 35 | 38 | 7 | 14 | 17 | 34 | 53 | -19 |
| 19 | | 23 | 38 | 6 | 5 | 27 | 34 | 77 | -43 |
| 20 | | 22 | 38 | 5 | 7 | 26 | 23 | 84 | -61 |
Legend
Champions League

Europa League

Abstieg