Hull City
VS
Huddersfield Town
MKM Stadium
Kingston upon Hull
Hull City AFC - Huddersfield Town AFC betting tip & odds comparison 01.04.2022
In gameweek 40 of Championship, Hull City will host Huddersfield Town at MKM Stadium. Kick-off is scheduled for 8:45 PM on Apr 1, 2022 With our match prediction and odds comparison for Hull City vs. Huddersfield Town you are guaranteed to get all the important facts and details for this fixture. First and foremost, we will take a close look at the teams' recent performances.
You can't get enough of England Championship betting tips? We provide you with betting tips for every matchday fixture, and additionally, we offer a comprehensive odds comparison.
Hull City have won 2 of their last 5 league matches (2 wins, 1 draw, 2 defeats. In the previous 19 home games in the Championship season 2021/2022, Hull City have won 5 matches, 3 games ended in a draw, and 11 games in defeat. (Goal difference 16:25).
Out of their last 5 Championship fixtures, Huddersfield Town have won 2 games (2 wins, 1 draw, 2 defeats). The away record in the current Championship season reads as follows: 7 wins, 7 draws und 6 defeats - Goal difference 24:23.
In their last five Championship encounters, Hull City managed to get 1 win against Huddersfield Town, while Huddersfield scored 3 wins. On 1 occasion, there was no winner. If we focus exclusively on the home games that Hull City played against Huddersfield Town in the Championship, we get the following record: 4 wins for Hull City, 0 draws and 1 win for Huddersfield Town.
Have you heard of the Betway deposit bonus yet? This offer, which is available to all customers who register for the first time, will allow you to start off with some extra credit.
Hull City welcomes Huddersfield Town as the English Championship returns in this Friday night kickoff to start the weekend round of games. Hull City's inconsistency in recent games has left them in 20th place, even though they are 13 points above the relegation zone. 4th-placed Huddersfield Town have also hit a rough patch of late that has dented their promotion hopes. Both teams will be looking to turn around their fortunes in this match. We promote the Mozzartbet multibet bonus and the Mr. Play sportsbook in our preview of this match. You can also read our reviews of the best betting sites in Africa.
HULL CITY
Hull City occupy 20th spot on the Championship league table with 41 points after playing 39 games. They are not in danger of relegation at the moment, but it would help to return to winning ways. Head coach Shota Arveladze needs a strong finish if he is to keep his job next season. A return of 12 points from their last 12 games is not impressive enough.
Before the international break, Hull City had managed only 1 win in four league matches. Their last match was a 3-1 loss to Luton Town. The Tigers have been struggling at home where they have lost all their last 5 games and scored only 1 goal in the process. As they go into another home match, they will be hoping that they can finally break the jinx and get a win here.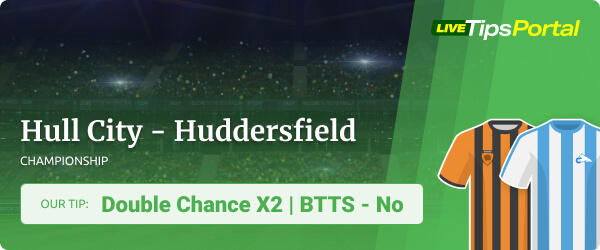 HUDDERSFIELD TOWN
Huddersfield Town lost 3-0 to Bournemouth in their last game before the international break. This was their 3rd loss in 4 league games. The bad run put a dent on the Terriers' promotion hopes as they now lie 4th with 63 points from 39 games. A win is much needed here to boost their push for a Premier League promotion spot.
Having lost their last 2 games, Huddersfield have to get a win here as they play 3rd placed Luton Town in their next match. A game against 20th-placed Hull City represents a great opportunity to bounce back to winning ways and launch a spirited push for promotion. On a positive note, the Terriers have only lost 1 of their last 10 away games.
Possible Line-Ups
HULL CITY
Ingram
Jones
McLoughlin
Greaves
Coyle
Smallwood
Honeyman
Elder
Lewis-Potter
Forss
Eaves
MISSING PLAYERS: Williams (Injury), Emmanuel (Illness)
HUDDERSFIELD TOWN
Nicholls
Turton
Pearson
Lees
Toffolo
Thomas
Russell
O'Brien
Holmes
Koroma
Ward
MISSING PLAYERS: Vallejo, Schofield, Aarons (Injuries)
OUR HULL VS HUDDERSFIELD BETTING PREDICTION
Hull City have lost all their last 5 home games and are likely to continue this bad streak when they host promotion-chasing Huddersfield. The visitors have won all the last 3 head-to-head matches against Hull, but their recent form in the league has not been impressive. Nevertheless, we expect Huddersfield to get something from this game in the first of the two betting tips today. So we go for Double Chance → Draw/Huddersfield.
TIP 1: Double Chance X2
For Hull City, 4 of their last 5 matches had at least one team failing to score while for Huddersfield Town, 3 of their last 5 matches saw at least 1 team failing to score. With both teams struggling of late, we feel that at least one team will fail to score in this game. You can read more of our betting strategies to help you win more.
TIP 2: Both Teams to Score – No
Performance
Hull City
Last games
Hull City performance of the last 5 home matches
Huddersfield Town
Last games
Huddersfield Town performance of the last 5 away matches
Current Standing
| POS | TEAM | PTS | MP | W | D | L | GF | GA | GD |
| --- | --- | --- | --- | --- | --- | --- | --- | --- | --- |
| 1 | | 90 | 46 | 27 | 9 | 10 | 106 | 43 | 63 |
| 2 | | 88 | 46 | 25 | 13 | 8 | 74 | 39 | 35 |
| 3 | | 82 | 46 | 23 | 13 | 10 | 64 | 47 | 17 |
| 4 | | 80 | 46 | 23 | 11 | 12 | 73 | 40 | 33 |
| 5 | | 75 | 46 | 21 | 12 | 13 | 63 | 45 | 18 |
| 6 | | 75 | 46 | 21 | 12 | 13 | 63 | 55 | 8 |
| 7 | | 70 | 46 | 20 | 10 | 16 | 59 | 50 | 9 |
| 8 | Blackburn Rovers Footbal & Athletic | 69 | 46 | 19 | 12 | 15 | 59 | 50 | 9 |
| 9 | | 69 | 46 | 18 | 15 | 13 | 53 | 45 | 8 |
| 10 | | 67 | 46 | 18 | 13 | 15 | 52 | 45 | 7 |
| 11 | | 66 | 46 | 19 | 9 | 18 | 60 | 59 | 1 |
| 12 | | 64 | 46 | 17 | 13 | 16 | 60 | 59 | 1 |
| 13 | | 64 | 46 | 16 | 16 | 14 | 52 | 56 | -4 |
| 14 | | 62 | 46 | 17 | 11 | 18 | 57 | 52 | 5 |
| 15 | | 61 | 46 | 16 | 13 | 17 | 58 | 68 | -10 |
| 16 | | 60 | 46 | 16 | 12 | 18 | 54 | 58 | -4 |
| 17 | | 55 | 46 | 15 | 10 | 21 | 62 | 77 | -15 |
| 18 | | 53 | 46 | 15 | 8 | 23 | 50 | 68 | -18 |
| 19 | | 51 | 46 | 14 | 9 | 23 | 41 | 54 | -13 |
| 20 | | 47 | 46 | 11 | 14 | 21 | 50 | 75 | -25 |
| 21 | | 41 | 46 | 13 | 8 | 25 | 54 | 87 | -33 |
| 22 | | 37 | 46 | 9 | 10 | 27 | 43 | 87 | -44 |
| 23 | | 34 | 46 | 14 | 13 | 19 | 45 | 53 | -8 |
| 24 | | 30 | 46 | 6 | 12 | 28 | 33 | 73 | -40 |
Legend
Promotion

Play-offs

Relegation