Liverpool FC
VS
Leeds United
Liverpool FC - Leeds United FC betting tip & odds comparison 23.02.2022
Betting Tip for matchday 19 of the 2021/2022 Premier League between Liverpool FC and Leeds United FC. The game will be played at Anfield (Liverpool, England) on 23.02.2022 at 20:45.
Anfield is the last place Leeds United want to be visiting at this time with their depleted squad. Liverpool are in excellent form, rushing past all forms of opposition with ease. On the other hand, Leeds United have been on the receiving end of some big thrashings in their recent matches. Nevertheless, their fighting spirit and fidelity to their attacking game makes their matches very interesting. This match promises the same entertainment when the teams go head-to-head on Boxing Day.
We promote Paripesa and Chezacash in our review of this game. You can read more about the best betting sites in Africa here.
LIVERPOOL
Liverpool's 2-2 draw with Tottenham in their last match marked the end to an 8-match winning streak in all competitions for the Merseysiders. The draw also meant that they lost some ground against Manchester City in the title race. Liverpool are now 3 points behind the league leaders and would not want that gap to widen any further. Victory on boxing Day at Anfield presents the best way to bounce back to winning ways and keep their title hopes alive.
Liverpool will be happy they were able to get a point in the last game despite missing their regular midfield players, including Fabinho, Thiago, and Henderson. It is still not clear when they will be back. Nevertheless, the Africa contingent of Salah, Mane, Keita, and Matip are expected to be available even as we get closer to the Africa Cup of nations in January, when the Africa players will be leaving for national team duty.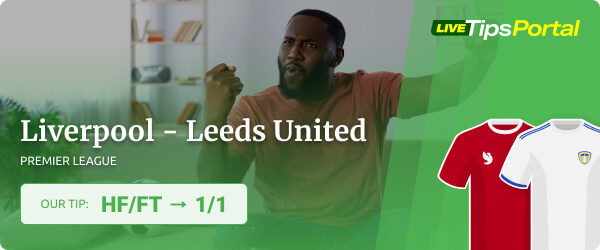 LEEDS UNITED
Leeds United have suffered two humiliating defeats in recent games; 7-0 loss to Manchester City and a 4-1 loss to Arsenal FC. As they get ready to face the highest scoring team in the league this season, there may be some fears that another thorough beating is in the offing. However, the fighting spirit of Leeds United is still there, and they are expected to approach this match fearlessly as they do in all games.
Injuries are the main reason for Leeds United's poor performances in recent times. The new COVID-19 infections are not helping either. They are likely to be without many of their first team regulars for longer. At least Rafinha is back and has scored 2 goals in the last 2 games. Leeds United may be thinking the worse is over and it is now time to start focusing on how to gain points and climb up the table.
Possible Line-ups
LIVERPOOL
Allisson
Alexander-Arnold
Konate
Matip
Milner
Keita
Morton
Thiago
Mane
Firmino
Salah
MISSING PLAYERS: Robertson (red card), Alcantara (COVID-19), Jones (COVID-19), Van Dijk (COVID-19), Fabinho (COVID-19), Origi (Knee)
LEEDS UNITED
Meisler
Drameh
Koch
Ayling
Dallas
Klich
Forshaw
Raphinha
Roberts
Harisson
Gelhardt
MISSING PLAYERS: Llorente (COVID-19), Cresswell (Shoulder), James (Strain), Shackleton (Achilles), Struijk (Hip), Moreno (Heel), Bamford (Hamstring), Cooper (Hamstring), Phillips (Hamstring)
OUR BETTING TIP
Liverpool have been in excellent form in all competitions and are expected to register another premier league win in this match. They are playing at home where it is difficult for other teams to get points. Mohamed Salah is in the form of his life and scoring lots of goals. They should be able to get a comfortable win here.
For Leeds United, this match comes at a bad time. The long list of injuries and missing players means that they will not be able to put out a very strong team. It is ot easy to see how Leeds United will be able to get a positive result under these circumstances considering the quality of the opposition.
🔥 BETTING TIP: Halftime/Fulltime → Liverpool/Liverpool @ 1.53
Performance
Liverpool FC
Last games
Liverpool FC performance of the last 7 home matches
Leeds United
Last games
Leeds United performance of the last 3 away matches
Current Standing
| POS | TEAM | PTS | MP | W | D | L | GF | GA | GD |
| --- | --- | --- | --- | --- | --- | --- | --- | --- | --- |
| 1 | | 93 | 38 | 29 | 6 | 3 | 99 | 26 | 73 |
| 2 | | 92 | 38 | 28 | 8 | 2 | 94 | 26 | 68 |
| 3 | | 74 | 38 | 21 | 11 | 6 | 76 | 33 | 43 |
| 4 | | 71 | 38 | 22 | 5 | 11 | 69 | 40 | 29 |
| 5 | | 69 | 38 | 22 | 3 | 13 | 61 | 48 | 13 |
| 6 | | 58 | 38 | 16 | 10 | 12 | 57 | 57 | 0 |
| 7 | | 56 | 38 | 16 | 8 | 14 | 60 | 51 | 9 |
| 8 | | 52 | 38 | 14 | 10 | 14 | 62 | 59 | 3 |
| 9 | Brighton & Hove Albion FC | 51 | 38 | 12 | 15 | 11 | 42 | 44 | -2 |
| 10 | Wolverhampton Wanderers FC | 51 | 38 | 15 | 6 | 17 | 38 | 43 | -5 |
| 11 | | 49 | 38 | 13 | 10 | 15 | 44 | 62 | -18 |
| 12 | | 48 | 38 | 11 | 15 | 12 | 50 | 46 | 4 |
| 13 | | 46 | 38 | 13 | 7 | 18 | 48 | 56 | -8 |
| 14 | | 45 | 38 | 13 | 6 | 19 | 52 | 54 | -2 |
| 15 | | 40 | 38 | 9 | 13 | 16 | 43 | 67 | -24 |
| 16 | | 39 | 38 | 11 | 6 | 21 | 43 | 66 | -23 |
| 17 | | 38 | 38 | 9 | 11 | 18 | 42 | 79 | -37 |
| 18 | | 35 | 38 | 7 | 14 | 17 | 34 | 53 | -19 |
| 19 | | 23 | 38 | 6 | 5 | 27 | 34 | 77 | -43 |
| 20 | | 22 | 38 | 5 | 7 | 26 | 23 | 84 | -61 |
Legend
Champions League

Europa League

Abstieg