Qatar
VS
USA
Qatar - USA betting tip & odds comparison 30.07.2021
In gameweek 0 of Gold Cup, Qatar will host USA at Q2 Stadium. Kick-off is scheduled for 1:30 AM on Jul 29, 2021, and the fixture will be refereed by Juan Gabriel Calderón Perez. With our match prediction and odds comparison for Qatar vs. USA you are guaranteed to get all the important facts and details for this fixture. First and foremost, we will take a close look at the teams' recent performances.
Where to find the best tips of tomorrow? Livetipsportal offers you a vast selection of predictions for the most popular domestic leagues and international competitions.
Qatar have won 3 of their last 5 league matches (3 wins, 1 draw, 0 defeats. In the previous 2 home games in the Gold Cup season 2021, Qatar have won 1 match, 1 game ended in a draw, and 0 games in defeat. (Goal difference 6:5).
Out of their last 5 Gold Cup fixtures, USA have won 4 games (4 wins, 0 draws, 1 defeat). The away record in the current Gold Cup season reads as follows: 1 win, 0 draws und 0 defeats - Goal difference 6:1.
Have you heard of the Betway deposit bonus yet? This offer, which is available to all customers who register for the first time, will allow you to start off with some extra credit.
Qatar vs USA, Gold Cup Semifinal, 30.07.2021
Hosts USA and red hot Qatar will be vying for a berth in the final when they take to the field at Q2 Stadium in Austin, Texas in the wee hours of Friday morning in the first semifinal of this year's Gold Cup.
Both teams have been in terrific form coming into this match with the Asians riding on an 11 game unbeaten run while the USA have won seven games on the trot.
For this game, we will consider 22Bet Registration Bonus prices for our tips in this preview.
QATAR
Making the semifinal in their debut in this competition is in itself an excellent achievement. But you get a feeling that the reigning Asian Cup champions could just be looking to get a lot more than that here. After a nervy draw against Panama in their opener, Qatar have gone on to record three straight wins including a thrilling 3-2 win over El Salvador in the quarterfinal last time out.
12 goals in these 4 matches is enough proof that they have been firing from all cylinders in the tournament. The challenge for them has been on the other end where they have been uncharacteristically lax, conceding five goals which is more than they had conceded in their previous nine games combined leading into the competition.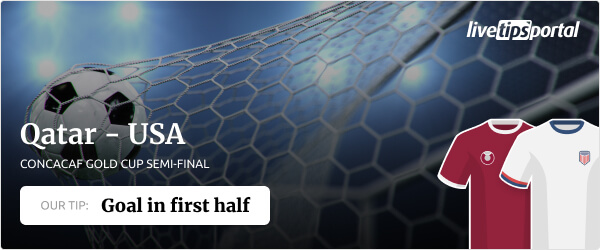 © Livetipsportal
USA
USA have a 100% record in the tournament after winning all 4 of their fixtures thus far. It has however not been smooth sailing all through as they have been made to work to earn some of these wins. None more so than the 1-0 quarterfinal win over Jamaica. They dominated possession for most of the match and created a host of chances but had to wait until the 83rd minute to finally put the ball past a hardworking Andre Blake in the Jamaican goal.
That was their 7th consecutive win across all competitions and it speaks volumes of the fortitude and resilience of the yanks.
Gregg Berhalter has a very young and versatile group of players. They have shown tremendous depth with the nine goals they have scored in the tournament coming from eight different goalscorers.
Possible Line Ups
QATAR
USA

Barsham
Correia
Al-Rawi
Khouki
Hassan
Ahmed
Al Haydos
Boudiaf
Hatim
Afif
Almoez
Coach: Felix Sanchez

Turner
Moore
Zimmerman
Robinson
Vines
Acosta
Yueill
Lletget
Arriola
Zardez
Lewis
Coach: Gregg Berhalter

Injured: None and None
QATAR VS USA MATCH PREVIEW AND BETTING TIPS
Both of these teams have shown an affinity towards making quick starts and it may well be the case here that whoever gets off the block quickly could very well hold the aces for the rest of the game. Both teams scored at least a goal in the first half in three of their respective four fixtures. USA actually scored the fastest goal ever in the tournament in their 1-0 win over Canada with the goal coming in barely a minute into the game. 22Bet have priced a goal in the first half @ 1.43 and we feel this may well be worth a punt for the first of our football predictions today.
The US have vast experience in this tournament and have shown tremendous ability to edge out wins in close games, with five of these seven wins being by single-goal margins. With a raucous home crowd egging them on, we feel they will have an edge in this game and we are backing them to qualify for the finals also @ 1.43 with 22Bet as our final call.
Develop winning habits by following our terrific summary of the best betting strategies. These are tried and tested tactics that have been shown to have a great deal of success amongst the best punters in the world!
Our tips
Performance
Qatar
Last games
Qatar performance of the last 6 home matches
USA
Last games
USA performance of the last 4 away matches