Stade Brest
VS
Paris Saint-Germain
Stade Brestois 29 - Paris Saint-Germain FC betting tip & odds comparison 20.08.2021
In gameweek 3 of Ligue 1, Stade Brest will host Paris Saint-Germain at Francis-Le Blé. Kick-off is scheduled for 9:00 PM on Aug 20, 2021 With our match prediction and odds comparison for Stade Brest vs. Paris Saint-Germain you are guaranteed to get all the important facts and details for this fixture. First and foremost, we will take a close look at the teams' recent performances.
Where to find the best sure win prediction for tomorrow? Livetipsportal offers you a vast selection of predictions for the most popular domestic leagues and international competitions.
Stade Brest have won 0 of their last 5 league matches (0 wins, 3 draws, 2 defeats. In the previous 1 home games in the Ligue 1 season 2021/2022, Stade Brest have won 0 matches, 1 game ended in a draw, and 0 games in defeat. (Goal difference 1:1).
Out of their last 5 Ligue 1 fixtures, Paris Saint-Germain have won 4 games (4 wins, 1 draw, 0 defeats). The away record in the current Ligue 1 season reads as follows: 1 win, 0 draws und 0 defeats - Goal difference 2:1.
In their last five Ligue 1 encounters, Stade Brest managed to get 0 wins against Paris Saint-Germain, while Paris SG scored 4 wins. On 1 occasion, there was no winner. If we focus exclusively on the home games that Stade Brest played against Paris Saint-Germain in the Ligue 1, we get the following record: 0 wins for Stade Brest, 0 draws and 5 wins for Paris Saint-Germain.
Have you heard of the 1xbet bonus yet? This offer, which is available to all customers who register for the first time, will allow you to start off with some extra credit.
Stade Brest vs PSG, Ligue 1, 20.08.2021
PSG have hit the ground running this season as they try to win back the league title they lost to Lille last season. They already have 2 wins from the first 2 games while opponents Stade Brest are yet to taste victory following two consecutive draws.
Even as the whole world awaits to see Messi making his debut for the Parisians, PSG still have a wide range of exciting talents to choose from. It will take a massive effort from Brest to get a positive result here.
We promote the Bet9ja registration bonus in our preview of this game.
Read more about bonus promotions from the leading bookmakers in the game. Customers from Ghana, Kenya, Uganda and South Africa will find other great bookies to sign up with.
STADE BREST
Stade Brest could only manage a draw at home against Rennes in their last league match. Two draws in the opening two games have left them on a 6-match winless streak in Ligue 1 going back to last season.
Stade Brest need to take advantage of their home games to earn some points as this has proven to be their weakness. They have lost two of their last three fixtures at their Stade Francis-Le Ble and conceded 7 goals in the process.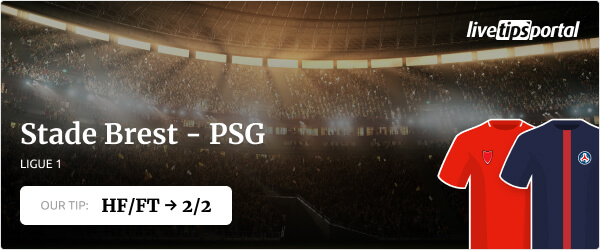 © Livetipsportal
PSG
PSG managed a big 4-2 win over Strasbourg with Messi and Neymar watching from the stands. Icardi, Draxler, and Mbappe were there to give PSG a 3-goal lead at the break before Sarabia added the fourth a few minutes before the end.
Coach Mauricio Pochettino has several big stars to choose from even if Messi does not make his long-awaited debut. Neymar should be available to boost the attack even further so they will be going for nothing short of victory.
Possible Line Ups
STADE BREST
PSG

Bizot
Pierre-Gabriel
Chardonnet
Brassier
Uronen
Mbock
Magnetti
Honorat
Faivre
Cardona
Mounie
Coach: Michel Der Zakarian

Navas
Hakimi
Kehrer
Kimpembe
Diallo
Dina
Herrera
Wijnaldum
Draxler
Icardi
Mbappe
Coach: Mauricio Pochettino

Injured: Belkebla (Ankle), Cibois (Achilles), Herelle (Knee), Lasne (Knee) and Bernat (Knee), Dagba (Ankle), Gueye (Illness), Letellier (Groin), Messi (Fitness), Ramos (Leg)
OUR TIP
Brest are struggling at home, where they have not been able to score more than 1 goal in any of their last 5 home matches. Their defense is also likely to struggle against a formidable PSG attack so victory will be difficult to achieve.
With 6 goals in their opening 2 league games, PSG are favorites to win this match. Furthermore, they have a good H2H record against Brest, having won all their last 5 meetings.
FOOTBALL BETTING TIP TODAY: Halftime/Fulltime → PSG/PSG @ 1.75 odds.
You can read our article about the best betting companies in Africa to find another bookmaker and bonus offer that fits your needs.
Our tips
Performance
Stade Brest
Last games
Stade Brest performance of the last 6 home matches
Paris Saint-Germain
Last games
Paris Saint-Germain performance of the last 4 away matches
Current Standing
| POS | TEAM | PTS | MP | W | D | L | GF | GA | GD |
| --- | --- | --- | --- | --- | --- | --- | --- | --- | --- |
| 1 | | 86 | 38 | 26 | 8 | 4 | 90 | 36 | 54 |
| 2 | | 71 | 38 | 21 | 8 | 9 | 63 | 38 | 25 |
| 3 | | 69 | 38 | 20 | 9 | 9 | 65 | 40 | 25 |
| 4 | | 66 | 38 | 20 | 6 | 12 | 82 | 40 | 42 |
| 5 | | 66 | 38 | 20 | 7 | 11 | 52 | 36 | 16 |
| 6 | | 63 | 38 | 17 | 12 | 9 | 60 | 43 | 17 |
| 7 | | 62 | 38 | 17 | 11 | 10 | 62 | 48 | 14 |
| 8 | | 61 | 38 | 17 | 11 | 10 | 66 | 51 | 15 |
| 9 | | 55 | 38 | 15 | 10 | 13 | 55 | 48 | 7 |
| 10 | | 55 | 38 | 14 | 13 | 11 | 48 | 48 | 0 |
| 11 | | 48 | 38 | 13 | 9 | 16 | 49 | 57 | -8 |
| 12 | | 46 | 38 | 11 | 13 | 14 | 43 | 44 | -1 |
| 13 | | 43 | 38 | 12 | 7 | 19 | 49 | 61 | -12 |
| 14 | | 41 | 38 | 10 | 11 | 17 | 44 | 55 | -11 |
| 15 | | 38 | 38 | 9 | 11 | 18 | 37 | 53 | -16 |
| 16 | | 36 | 38 | 8 | 12 | 18 | 35 | 63 | -28 |
| 17 | | 36 | 38 | 9 | 9 | 20 | 38 | 69 | -31 |
| 18 | | 32 | 38 | 7 | 11 | 20 | 42 | 77 | -35 |
| 19 | | 31 | 38 | 6 | 13 | 19 | 35 | 69 | -34 |
| 20 | | 31 | 38 | 6 | 13 | 19 | 52 | 91 | -39 |
Legend
Champions League

Champions League Quali.

Europa League

Europa Conference League Quali.

Relegation play-off

Relegation