Wolfsburg
VS
Bor. Mönchengladbach
Volkswagen Arena
Wolfsburg
VfL Wolfsburg - Borussia Mönchengladbach betting tip & odds comparison 02.10.2021
In gameweek 7 of Bundesliga, Wolfsburg will host Bor. Mönchengladbach at Volkswagen Arena. Kick-off is scheduled for 3:30 PM on Oct 2, 2021 With our match prediction and odds comparison for Wolfsburg vs. Bor. Mönchengladbach you are guaranteed to get all the important facts and details for this fixture. First and foremost, we will take a close look at the teams' recent performances.
You can't get enough of Bundesliga betting tips? We provide you with betting tips for every matchday fixture, and additionally, we offer a comprehensive odds comparison.
Wolfsburg have won 3 of their last 5 league matches (3 wins, 1 draw, 1 defeat. In the previous 3 home games in the Bundesliga season 2021/2022, Wolfsburg have won 2 matches, 1 game ended in a draw, and 0 games in defeat. (Goal difference 3:1).
Out of their last 5 Bundesliga fixtures, Bor. Mönchengladbach have won 2 games (2 wins, 0 draws, 3 defeats). The away record in the current Bundesliga season reads as follows: 0 wins, 0 draws und 3 defeats - Goal difference 1:7.
In their last five Bundesliga encounters, Wolfsburg managed to get 2 wins against Bor. Mönchengladbach, while Mönchengladbach scored 1 win. On 2 occasions, there was no winner. If we focus exclusively on the home games that Wolfsburg played against Bor. Mönchengladbach in the Bundesliga, we get the following record: 2 wins for Wolfsburg, 3 draws and 0 wins for Bor. Mönchengladbach.
Have you heard of the Melbet welcome bonus yet? This offer, which is available to all customers who register for the first time, will allow you to start off with some extra credit.
WOLFSBURG VS BORUSSIA MONCHENGLADBACH, BUNDESLIGA, 02.10.2021
VfL Wolfsburg will host Borussia Monchengladbach in their next game in the German Bundesliga as both sides look to move up on the log.
Winless in their last two league games, the home side will be looking to bounce back from the defeat they suffered at Hoffenheim last week. We will provide odds from Betmojo Nigeria sportsbook.
WOLFSBURG
After a great start to the season which saw them won their first four Bundesliga games, Wolfsburg have dipped in form and are now without a win in their last three games in all competitions (1 loss, 2 draws).
Mark van Bommel's team will definitely want to end that run but they will have to do it against a side they have not won against in their last three meetings. Although The Wolves have won two of their first three home games in the Bundesliga, they have scored just three times at the Volkswagen Arena (once in each game). They need to be more clinical in front of goal against a Gladbach side that can score goals.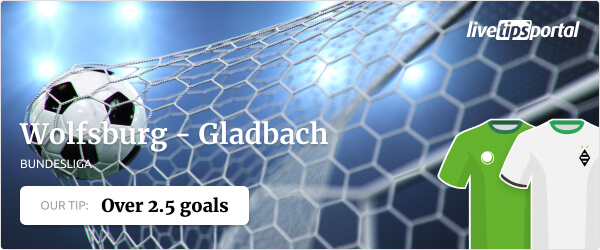 © Livetipsportal
BORUSSIA MONCHENGLADBACH
Borussia Monchengladbach are yet to score a point on the road this season and have only managed just one goal in their three away games so far.
The season did not start particularly well for Die Fohlen who earned just one point from their first three league fixtures but they seem to have turned things around with two wins in their last three games.
Both sides were inseparable last season in both meetings but the last win in a game between these two was for Gladbach who won 3-0 in June 2020 and they might fancy this one on Saturday.
Possible Line Ups
WOLFSBURG
BORUSSIA MONCHENGLADBACH

Casteels
Mbabu
Lacroix
Bornauw
Roussillon
Guilavogui
Arnold
Baku
Lukebakio
Steffen
Weghorst
Coach: Mark Van Bommel

Sommer
Ginter
Elvedi
Jantschke
Scally
Zakaria
Kone
Netz
Hofmann
Embolo
Stindl
Coach: Adi Hutter

Injured: Bialek (Knee Injury), Schlager (Knee Injury), Otavio (Ankle Injury) and Thuram (Knee Injury)Lainer (Broken Ankle),Doucoure (Achilles Tendon)
WOLFSBURG VS MONCHENGLADBACH BETTING TIPS AND PREDICTIONS
At first glance, this fixture is screaming goals and that is where will be putting our money for our first tip. Monchengladbach have been guilty of atrocious defending this season, although they are decent going forward.
Wolfsburg had a strong start to the season, although they have struggled in front of goal. The home team will be desperate for goals in this game. Therefore, we are backing over 2.5 goals to be scored at 1.79 on Betmojo.
For our second tip, we are still sticking with the goals markets. But this time we reckon at least a goal will be scored in the first of the game. Betmojo Combo Bonus is offering a price of 1.34. To put yourself in good stead, we have put together betting strategies to guide you in making decisions.
Our tips
Performance
Wolfsburg
Last games
Wolfsburg performance of the last 5 home matches
Bor. Mönchengladbach
Last games
Bor. Mönchengladbach performance of the last 5 away matches
Current Standing
| POS | TEAM | PTS | MP | W | D | L | GF | GA | GD |
| --- | --- | --- | --- | --- | --- | --- | --- | --- | --- |
| 1 | | 77 | 34 | 24 | 5 | 5 | 97 | 37 | 60 |
| 2 | | 69 | 34 | 22 | 3 | 9 | 85 | 52 | 33 |
| 3 | | 64 | 34 | 19 | 7 | 8 | 80 | 47 | 33 |
| 4 | | 58 | 34 | 17 | 7 | 10 | 72 | 37 | 35 |
| 5 | | 57 | 34 | 16 | 9 | 9 | 50 | 44 | 6 |
| 6 | | 55 | 34 | 15 | 10 | 9 | 58 | 46 | 12 |
| 7 | | 52 | 34 | 14 | 10 | 10 | 52 | 49 | 3 |
| 8 | | 46 | 34 | 13 | 7 | 14 | 50 | 45 | 5 |
| 9 | | 46 | 34 | 13 | 7 | 14 | 58 | 60 | -2 |
| 10 | | 45 | 34 | 12 | 9 | 13 | 54 | 61 | -7 |
| 11 | | 42 | 34 | 10 | 12 | 12 | 45 | 49 | -4 |
| 12 | | 42 | 34 | 12 | 6 | 16 | 43 | 54 | -11 |
| 13 | | 42 | 34 | 12 | 6 | 16 | 38 | 52 | -14 |
| 14 | | 38 | 34 | 10 | 8 | 16 | 39 | 56 | -17 |
| 15 | | 33 | 34 | 7 | 12 | 15 | 41 | 59 | -18 |
| 16 | | 33 | 34 | 9 | 6 | 19 | 37 | 71 | -34 |
| 17 | | 28 | 34 | 5 | 13 | 16 | 27 | 53 | -26 |
| 18 | | 18 | 34 | 3 | 9 | 22 | 28 | 82 | -54 |
Legend
Champions League

Europa League

Europa Conference League Quali.

Relegation play-off

Relegation