Wolverhampton Wanderers
VS
Leeds United
Molineux Stadium
Wolverhampton
Wolverhampton Wanderers FC - Leeds United FC betting tip & odds comparison 18.03.2022
Betting Tip for matchday 30 of the 2021/2022 Premier League between Wolverhampton Wanderers FC and Leeds United FC. The game will be played at Molineux Stadium (Wolverhampton, England) on 18.03.2022 at 21:00.
The opening fixture for round 30 at Molineux Stadium will bring together Wolverhampton Wanderers to face Leeds United. Wolverhampton has been better for the 6 recent encounters with Leeds as they managed to run 6 games in a row without tasting a defeat. This is making this match very important to the visitors as they will be hoping for a different result. Never miss a full Premier League betting tips review to stand a chance to win your tickets.
Wolverhampton Wanderers
Wolverhampton has successfully earned a back-to-back winning streak again following their preceding 3 losses. They are now set to maintain this trend to stand a chance to enter the Premier League's top six teams extend their past 3 games' dominance over Leeds United. Hwang is doubted to be on starting IX due to injury while Semedo is still in the recovery room.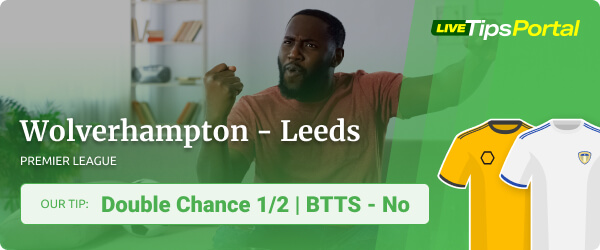 Leeds United
Leeds United on the other hand is in a break of running 8 games without a win after managing to secure a 2-1 win against Norwich on Sunday evening. Leeds' last 3 recent away games were all lost with no goals being seen on the scoreboard. There is high tension for the technical bench to please their fans with at least a goal this time while hoping to flip tables to mark a different record with Wolves.
Possible Lineups
Wolverhampton Wanderers
Sá;
Kilman
Coady
Saïss
Otto
Dendoncker
Neves
Moutinho
Marçal
Podence
Jiménez
MISSING PLAYERS: Hoever (Hamstring), Semedo (Muscle injury)
DOUBTFUL PLAYER: Hwang(Knock injury)
Leeds United
Meslier
Ayling
Llorente
Struijk
Dallas
Klich
Forshaw
James
Rodrigo
Raphinha
Bamford
MSSING PLAYERS: Firpo (Knee injury), Roberts (Out for season), Hjelde (Meniscus injury), Cooper (Hamstring), Phillips (Hamstring)
Never miss the ongoing Parimatch and 1xbet offers to add value to your winnings! As a new customer don't forget to check out the 1xbet bonus terms and conditions to get the maximum out of the welcome offer.
Our Wolverhampton Wanderers vs. Leeds United betting tips
Wolves are set to enter the top 6 while Leeds is keen to skip the danger zone making this match to be an important game for either side to keep the 3 points. As only one squad can get the 3 points we see more potential in betting for any team to win this game that is why we advise you to opt for Double Chance Market selection for Wolverhampton Wanderers/Leeds United.
The recent 2 clean sheets of Wolverhampton are also sending a message to Punters that only one team will manage to score a goal as the 3 points are being secured. And yet the Leeds' recent 3 away matches had only one team scoring. This means you can alternatively choose to make more money by selecting Both Teams to Score – NO.
Performance
Wolverhampton Wanderers
Last games
Wolverhampton Wanderers performance of the last 5 home matches
Leeds United
Last games
Leeds United performance of the last 5 away matches
Current Standing
| POS | TEAM | PTS | MP | W | D | L | GF | GA | GD |
| --- | --- | --- | --- | --- | --- | --- | --- | --- | --- |
| 1 | | 93 | 38 | 29 | 6 | 3 | 99 | 26 | 73 |
| 2 | | 92 | 38 | 28 | 8 | 2 | 94 | 26 | 68 |
| 3 | | 74 | 38 | 21 | 11 | 6 | 76 | 33 | 43 |
| 4 | | 71 | 38 | 22 | 5 | 11 | 69 | 40 | 29 |
| 5 | | 69 | 38 | 22 | 3 | 13 | 61 | 48 | 13 |
| 6 | | 58 | 38 | 16 | 10 | 12 | 57 | 57 | 0 |
| 7 | | 56 | 38 | 16 | 8 | 14 | 60 | 51 | 9 |
| 8 | | 52 | 38 | 14 | 10 | 14 | 62 | 59 | 3 |
| 9 | Brighton & Hove Albion FC | 51 | 38 | 12 | 15 | 11 | 42 | 44 | -2 |
| 10 | Wolverhampton Wanderers FC | 51 | 38 | 15 | 6 | 17 | 38 | 43 | -5 |
| 11 | | 49 | 38 | 13 | 10 | 15 | 44 | 62 | -18 |
| 12 | | 48 | 38 | 11 | 15 | 12 | 50 | 46 | 4 |
| 13 | | 46 | 38 | 13 | 7 | 18 | 48 | 56 | -8 |
| 14 | | 45 | 38 | 13 | 6 | 19 | 52 | 54 | -2 |
| 15 | | 40 | 38 | 9 | 13 | 16 | 43 | 67 | -24 |
| 16 | | 39 | 38 | 11 | 6 | 21 | 43 | 66 | -23 |
| 17 | | 38 | 38 | 9 | 11 | 18 | 42 | 79 | -37 |
| 18 | | 35 | 38 | 7 | 14 | 17 | 34 | 53 | -19 |
| 19 | | 23 | 38 | 6 | 5 | 27 | 34 | 77 | -43 |
| 20 | | 22 | 38 | 5 | 7 | 26 | 23 | 84 | -61 |
Legend
Champions League

Europa League

Abstieg