Luis Suarez is fighting his ban which had us think about the most upsetting scandals in European football in the recent years. Here is what we found out:
We start with Zinedine Zidane in the World Cup Final 2006. The French superstar was the best football player on the planet at that time and should have become a legend with winning the World Cup for a second time at the end of his career. Zidane did become a legend in that game, but probably not the way he wanted to. Instead of showing a glorious performance and winning the title, Zizou reacted to the provocations of Italian defender Marco Materazzi, smashed his head into the Italians chest, got sent off with a red card and saw his team losing in the penalty shootout. What an end to such an outstanding career… watch it again here:
Outside the field John Terry caused a huge scandal in 2010. Whole great Britain went crazy when it came out that their national team captain had an affair with his former team mates wife. It was short before the World Cup in South Africa and Terry lost his captains armband as a consequence of the scandal. Wayne Bridge, the cuckold in this story, even denied participating in the World Cup together with John Terry. Vanessa Peroncell, a French Dessou-Model, was the object of desire in that story and John Terry has become a popular motive for funny football memes on the internet after that.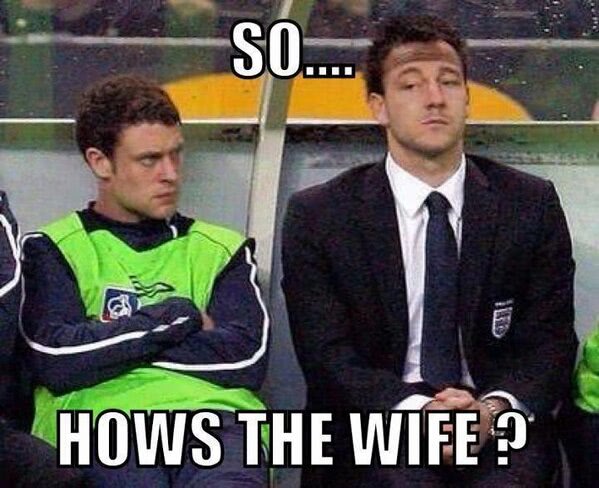 In the next Premier League meeting of this two, Wayne Bridge little surprisingly denied the handshake with John Terry:
Another Premier League upset was produced by Wojciech Szczesny in 2012. He told his teammate Aaron Ramsey via Twitter that he looks like a rapist (on a certain image). Of course it was meant as a joke but Szczesny definitely crossed a line here and was forced to apologize publicly by Arsenal. It wasn't the first faux-pas of the Arsenal keeper. He also texted a british adult-TV-model to "call" him while being in a relationship with his girlfriend. Instead of doing so she made everything public and Szczesny had a hard time explaining that to his girlfriend. We hope for him he learned his lesson and will think twice before using twitter inappropriately again.
Let's take a look to the World Champions. In Germany, Kevin Großkreutz had some funny moments recently. When partying in Köln he had an argument with a fan. In the end Großkreutz threw with turkish fast food and was faced with charges for assault. Not much after that he got seriously drunk after the loss against Bayern Munich in the German DFB-Cup and relieved himself in the lobby of a hotel in Berlin. He was very lucky that Joachim Löw just admonished him and that he still was allowed to take part in the World Cup.
Eric Cantona once was suspended for 6 months. How he did that? After a fan in the first row provoked him with racist phrases, Cantona jumped at him with a kong-fu kick, right to the fans chest.
The most upsetting person in the recent years of football can just be one guy: Luis Suarez. The always hungry Uruguyan striker made people talk about him with great on-field performances as well as with inexplicable scandals. Already at his days in Amsterdam Luis Suarez bit the first time. Otman Bakkal was the victim and Suarez was banned for 7 games. In the World Cup 2010 Suarez became a doubtful hero when rescuing his team with a safe on the goal line. He was sent off the field but Ghana missed the penalty and Uruguay managed to advance. In October 2011 he affronted Patrice Evra racistically and was suspended for another 8 matches. In April 2013 Branislav Ivanovic was the victim. Suarez bit him in the shoulder and got a ban of 10 games. Still he didn't learn his lesson and everyone saw what happened in the 2014 World Cup in the match against Italy. Unfortunately the referee didn't see it and Suarez was banned later by the FIFA. He is not allowed to play any professional football for 4 months but hopes that the CAS reduces his ban within the next days. His new team, FC Barcelona, reacted quickly and added a special term to the new players contract. In case he bites any player he will have to pay one third of his payment back to Barcelona.