The Bookie Bwin launched an innovation for their football betting fans – The Bwin PROTEKTOR. Everybody is aware of the ordinary three way betting tips. But beside that there are several other interesting betting offers, where of course you can reach the highest profit, if you combine your tips. In order to reduce the risk, Bwin offers the so called Bwin Protektor.
One of the favorite ways of betting is the multi bet. With two or more tips on different games it is possible to earn big winnings with low stake. But of course, a better odd is accompanied by higher risk. Particularly annoying it is, for example, if you've played five tips but only four tips win. In this case one tip screws your total possible winnings and you lose the whole bet.
But here is the special: in order to prevent such dramatic scenarios in the future, bwin now offers an insurance for multi betting tips.
The preconditions for this safeguarding are easily explained. The PROTEKTOR applies only on pre-game bets, not for live games or live bets. The amount of possible tips is unlimited, but you can insure not more than 5 of 6 tips or in other words: always one tip less than the total amount of tips. The costs consist of: stake plus the height of the PROTEKTOR costs. The more games you want to insure, the more expensive it will get for you.
The PROTEKTOR can best be illustrated with an example of a few UEFA Champions League matches:
Lets have a look at the following games:
Shakhtar Donetsk – FC Bayern Munich: Tip 2
Paris Saint-Germain – Chelsea FC: Tip 1
FC Basel – FC Porto: Tip 1
We decided to use 5 € and insure 2 tips. The cost is 33.07 Euro here on the set plus 5 Euro.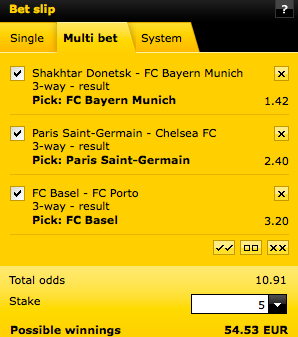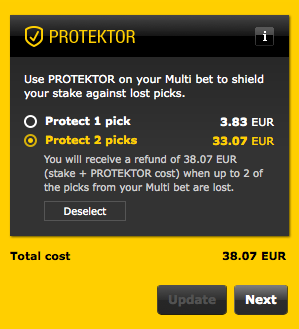 There are three different scenarios:
You have guessed correctly and all three games end as desired. The potential gains minus the PROTEKTOR costs will be paid.
If there are one or two tips incorrect, the PROTEKTOR is used and you get your stake refunded plus the costs of the PROTEKTOR.
All three tips are wrong. You lose your stake as well as the costs of the PROTEKTOR.
Sounds like a pretty good deal. If you protect two games in our exemplary multi bet and already the first batch was typed correctly, but one is assumed wrong, you don't have to wait for the third match. Bwin pays namely equal to the use and protection costs back as soon as it is clear that you will not win the bet. Of course, only customers of the bookmaker Bwin benefit of the PROTEKTOR. If you are not registered yet, you can simply register for free at Bwin.com and additionally take even the 100% Bonus up to 50 €.