Juventus
VS
Atalanta
Juventus FC - Atalanta BC betting tip & odds comparison 27.11.2021
Matchday 14 in the Serie A features the clash between Juventus and Atalanta at Allianz Stadium. The referee for this fixture (Nov 27, 2021 at 6:00 PM) will be Giovanni Ayroldi. In our preview of Juventus vs. Atalanta, you will receive all the important details and facts about this Serie A fixture. We will begin with an analysis of the current form of the two teams.
Livetipsportal is your expert-level platform for sure win prediction for tomorrow. We offer you the best sports betting predictions for the world's top leagues as well as for the most popular international competitions in football.
Juventus emerged the winner in 2 of their last 5 league games (2 wins, 1 draw, 2 defeats. In 6 games on home turf in the current Serie A season 2021/2022, Juventus have won 3 times, with 1 match ending in a draw, and 2 games ending in defeat (Goal difference 7:6).
In their last 5 Serie A fixtures, Atalanta have won 3 games (3 wins, 2 draws, 0 defeats). In all previous Serie A matches away from home, Atalanta have a positive record: 5 wins, 1 draw and 0 defeats - Goal difference 14:6.
A head-to-head comparison of the two teams in their last five Serie A clashes shows that Juventus managed to get 2 wins, while in 1 match, Atalanta snatched the three points. In 2 encounters between the two teams, the points were shared. If we solely focus on the home record of Juventus against Atalanta, the stats are as follows: 2 wins Juventus, 3 draws and 0 wins for Atalanta.
You want to place a bet at a bookie you haven't signed up with yet? In this case, we can recommend the Melbet registration bonus for newly customers. We have already tested this offer for you.
Back to Serie A. Juventus hosting Atalanta in Turin with a flying color record of being undefeated 18 times whenever these two teams meet. The host is showing a sign of improvement in Serie A games which might be an important note to Atalanta as they take on the Bianconeri. But past is past Juventus will face another challenging time against the Atalanta squad this Saturday.
Check out the rest of Serie A betting tips to have a better return for your stake.
Juventus
A 4-0 loss in the UEFA Champions League game on Tuesday left a big scar on Juventus as the frontline looked so blunt while the backline was seriously torn out into pieces. But the two wins in a row beating both Fiorentina and Lazio is speaking a quite different language. We can simply say Juventus has revived back to their best performance during their Serie A last matches. We hope for positive results on this matchday.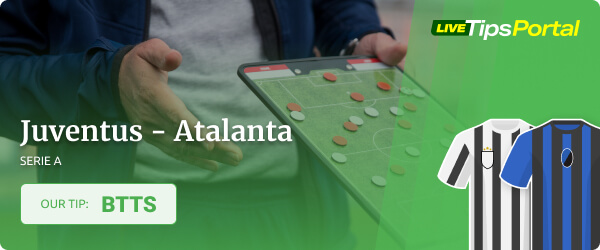 Atalanta
7 consecutive undefeated matches, mark the current best record of Atalanta. Atalanta was merciless to Spezia nailing 5 goals into the nets that granted them opportunity to be among the top four teams in serie A during round 13. The best part is the Atalanta squad has potential of scoring highest number of goals, an average of 3 goals into the nets of their opponents.
Possible Line-up
Juventus
Szczęsny
Cuadrado
Bonucci
de Ligt
Sandro
McKennie
Bentancur
Locatelli
Rabiot
Chiesa
Morata
COACH: Gian Piero Gasperini
MISSING PLAYERS: Danilo (Muscle injury), Ramsey (Muscle injury), Bernardeschi (Groin strain), Chiellini (Achilles tendon), De Sciglio (Hamstring)
Atalanta
Musso
Tolói
Demiral
Palomino
Pezzella
de Roon
Freuler
Mæhle
Pašalić
Malinovskyi
Zapata
COACH: Massimiliano Allegri
MISSING PLAYER: Zappacosta (Ankle injury), Lovato (Hamstring), Hamstring(Gosens), Hateboer (Foot injury)
Our Juventus vs Atalanta betting tips
15 games in a row Juventus has been able to score at least a goal. Yet, Atalanta is having same record of managing to score at least a single goal in their last 16 matches. We believe nothing will change from this observation hence both teams might be able to score at least a goal into the nets. Parimatch has better odds for Both Teams to Score @ 1.59 odds.
Explore current Parimatch TZ & NG betting markets today.
Still we believe more goals might be scored in the second half than the first half as a result of a cautious game that can be expected by both teams when attempting to keep the points. Hence more fun is expected to happen in the second half than the first half. Betway has the best odds for More goals in the Second half @ 1.98 odds.
Go to our Betway review page to get more insight into available offers.
Performance
Juventus
Last games
Juventus performance of the last 4 home matches
Atalanta
Last games
Atalanta performance of the last 6 away matches
Current Standing
| POS | TEAM | PTS | MP | W | D | L | GF | GA | GD |
| --- | --- | --- | --- | --- | --- | --- | --- | --- | --- |
| 1 | | 86 | 38 | 26 | 8 | 4 | 69 | 31 | 38 |
| 2 | | 84 | 38 | 25 | 9 | 4 | 84 | 32 | 52 |
| 3 | | 79 | 38 | 24 | 7 | 7 | 74 | 31 | 43 |
| 4 | | 70 | 38 | 20 | 10 | 8 | 57 | 37 | 20 |
| 5 | | 64 | 38 | 18 | 10 | 10 | 77 | 58 | 19 |
| 6 | | 63 | 38 | 18 | 9 | 11 | 59 | 43 | 16 |
| 7 | | 62 | 38 | 19 | 5 | 14 | 59 | 51 | 8 |
| 8 | | 59 | 38 | 16 | 11 | 11 | 65 | 48 | 17 |
| 9 | | 53 | 38 | 14 | 11 | 13 | 65 | 59 | 6 |
| 10 | | 50 | 38 | 13 | 11 | 14 | 46 | 41 | 5 |
| 11 | | 50 | 38 | 13 | 11 | 14 | 64 | 66 | -2 |
| 12 | | 47 | 38 | 11 | 14 | 13 | 61 | 58 | 3 |
| 13 | | 46 | 38 | 12 | 10 | 16 | 44 | 55 | -11 |
| 14 | | 41 | 38 | 10 | 11 | 17 | 50 | 70 | -20 |
| 15 | | 36 | 38 | 10 | 6 | 22 | 46 | 63 | -17 |
| 16 | | 36 | 38 | 10 | 6 | 22 | 41 | 71 | -30 |
| 17 | | 31 | 38 | 7 | 10 | 21 | 33 | 78 | -45 |
| 18 | | 30 | 38 | 6 | 12 | 20 | 34 | 68 | -34 |
| 19 | | 28 | 38 | 4 | 16 | 18 | 27 | 60 | -33 |
| 20 | | 27 | 38 | 6 | 9 | 23 | 34 | 69 | -35 |
Legend
Champions League

Europa League

Europa Conference League Quali.

Relegation